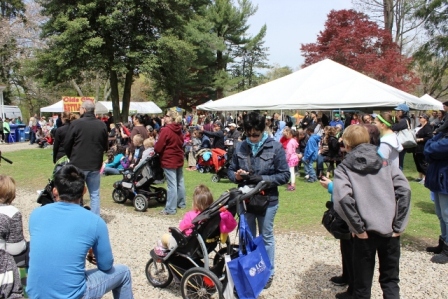 Date/Time
Date(s) - 04/30/16
10:00 AM to 2:00 PM
Location
Croft Farm
Categories
The 7th Sustainable Cherry Hill Earth Festival promises to be the most engaging event yet. With more than 100+ displays including generous sponsors, 5000 expected visitors from across South Jersey – will celebrate, learn and grow – and take home at least one sustainable idea to reduce effects of climate change. South Jersey communities will benefit from months of planning by SCH and partners – Cherry Hill Township and Cherry Hill School District. More than 90 volunteers will staff event day.
"Let us consider the way in which we spend our lives."
Sustainable Cherry Hill's (SCH) festival theme is from philosopher, naturalist and historian Henry David Thoreau in 1863. If each of us makes one small change such as – cutting down driving trips, taking a shorter shower, stop using plastic water bottles or plastic shopping bags –together we can reduce the impact on climate change. And, you'll likely save money by taking action with many tips you'll pick up at the Earth Festival. E-waste and recycling is available; with easy drop off. Check out details on the Festival Web page.
Reducing Our CO Footprint
A Festival first – Bike Valet Parking: You'll save $3 a day and reduce 26 pounds of CO spewed into the air by opting to bicycle one day. On festival day, check your bike at the Courier Post-supported bike parking valet. Family Fun Bike Ride registration is online with details.
No printed flyers: We've reduced the event's carbon footprint by reducing the amount of paper used and saved Sustainable Cherry Hill valuable programming and scholarship dollars: no flyers have been officially printed or distributed by SCH.  Instead, social media posts, e-blasts and more digital outreach has been used.
Festival guidelines: you won't see, hear or smell generators at the Festival; NJ American Water provides refills for refillable water bottles – plastic drink bottles are discouraged; compostable or recyclable products are used where possible; we've encouraged folks to not use throw-away items where possible and site WASTE STATIONS include bins for recyclable products and food waste. Organic Diversion will collect Festival food waste for composting.
Celebrate April 30th
Two stages of entertainment, Cherry Hill East and West mascots, The Phillie Phanatic during the noon hour and so much more will fill four hours of Festival time. Be sure to upload to your phone or scan the three-page pdf (Adobe Acrobat needed) so you can plan your day at historic Croft Farm.  A brief welcome event is scheduled at 9:50 a.m. with township, school district and SCH officials.
Whether coming for the popular plant swap, rain barrel and compost demonstrations, healthy food available, to see your children perform or display and learn about and understand sustainability for your lifestyle, you're invited to be part of South Jersey's largest eco-event, Saturday, April 30 at Croft Farm, 100 Bortons Mill Rd. Rain or shine – 10 a.m. – 2 p.m.
For information, visit the Earth Festival Web page.