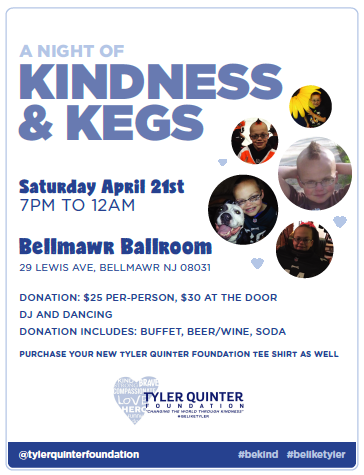 Date/Time
Date(s) - 04/21/18 - 04/22/18
7:00 PM to 12:00 AM
Location
Bellmawr Ballroom
Categories No Categories
Tyler Quinter was a vibrant, kind, and loving 13 year old boy who loved life and everyone in it.  Tyler was born almost 14 years ago with a double Congenital Heart Defect.  Tyler required four open heart surgeries to correct the defects.  In addition to the heart surgeries, Tyler endured years of follow up appointments and tests which at times required overnight stays in the hospital.  Tyler had several other surgeries as a result of his heart defects.  Through all of the bad times Tyler would find the strength to fight and come out on top.  Tyler also developed a compassion about him that is like no other human.  Tyler made everyone else a priority putting others before himself every day, needless to say Tyler was wise beyond his years.
On Monday May 8th, 2017 Tyler passed away at home with no warning and no signs.  We knew that there would be bumps in the road, however we would have never expected this.  In the days, weeks and now months since that horrific day we have learned so much more about Tyler and the kind of man he was becoming.  We had a visit from some of his teachers and the principal from his school.  The best story we heard that day was about Tyler selling bracelets in school.  During Heart Week in February this year, Tyler was making Loom Bracelets and selling them in school.  Tyler was informed that he was unable to do any fundraising by the principal as this was a violation of school policy.  When the principal was talking to Tyler she gave him a dollar and said we will keep this between us.  The reason this was allowed to happen we later found out, Tyler was using the money he was raising to help other students who may have not had lunch or could not afford to eat lunch.
Tyler was very involved with helping and willing to do whatever anyone would ask him to do.  When our family decided to assist a local Pit Bull Rescue and foster our dog Hudson, Tyler was not happy just making sure Hudson had the love he needed.  Tyler wanted to get involved with the rescue as a volunteer.  Tyler was the first child to assist this rescue and won over the hearts of the entire team the moment he met them.  Tyler would draw pictures of people's dogs and sell them.  He would turn the money over to the rescue when he was paid.  These are just a couple examples of how Tyler lived his life, there is so much more.  Tyler left his story in the middle of a chapter, now we as his parents feel the need to continue his story.
We have set up Tyler Quinter Foundation Inc.  The purpose of the foundation will be to give scholarships to students who exemplify all of Tyler's traits.  In addition we will be assisting families' finicaly who have medically fragile children.    We want to continue telling Tyler's story and assist those in need as he has helped for almost fourteen years.