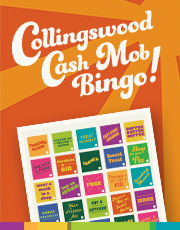 Date/Time
Date(s) - 09/23/20 - 09/24/20
12:00 AM to 12:00 AM
Location
Collingswood
Categories No Categories
Collingswood Cash Mob Bingo hits the streets September 23 and 24! Five winners each receive $100 in Collingswood Cash!
Shop in store or online, it all supports local in a big way!
Grab your bingo card from local merchants or Borough Hall and start shopping!
How it works: We partnered with the County and filled each bingo card with a variety of ways to shop, dine and enjoy Collingswood while staying socially distanced and safe. Players mark their card for wearing a mask, using curbside pick-up or even just treating themselves! Start your bingo now and spend $25 between September 23 and 24 at any Collingswood business. Then email a picture of your bingo card and dated receipts to collingswood.borough@gmail.com to be entered to win one of five $100 Collingswood Cash prizes! It's that simple and means so much to our local merchants.
Need another reason to shop? Many businesses are offering special deals for shoppers to take advantage of! Whether you're buying a meal, clothes, jewelry, pet supplies, plants or that perfect piece of art, you can find it right here in Collingswood.
This year's Cash Mob winners will be announced Friday, September 25, at 7 p.m. through Facebook live on the Collingswood Cash Mob Bingo event page. Do your shopping the 23 and 24 then sit back and watch to see if you're a winner!
If each household in Camden County transitions just $10 per month of their out-of-county retail spending to in-county spending, the economic benefit to the county would be approximately $35 million per year. In Collingswood that economic impact could reach $1.1 million. Camden County and Collingswood teamed up for cash mob events for the past few years that have brought hundreds of shoppers and thousands of dollars to Collingswood merchants on a typically ordinary night.
Find out more:
Facebook event page: https://fb.me/e/1Hp2FqgzC
Up to date merchant specials on collingswood .com found here: http://www.collingswood.com/things_to_do/shopping_and_dining/cash_mob.php
September 23 and 24 Collingswood Cash Mob Specials (more expected)
Occasionette, 724 Haddon Ave: Buy five cards, get a sixth free (of equal or lesser value).
All Fired Up, 602 Haddon Ave: 15% off one piece of pottery painted indoor/outdoor and we will pack it up in a to-go kit!
ExtraordinaryED, 808 Haddon Ave:  Get $5 certificate for every $25 spent those two days to be used on their next visit, valid through the end of the year.
The Hopeful Romantic, 686 Haddon Avenue: $15 gift certificate for any purchase of $100 or more to be used on future purchase.
Cynplicity Artisan Soap Co., 684 Haddon Avenue: Buy any two mint products, get one free.
PRONTO Collingswood, 833 Haddon Avenue: Home Sweet Home School Promotion: 10% discount for any student or teacher print order.                                                                                                                                                 Dig This, 717 Haddon Ave: 25% off any item, excludes newly upholstered pieces.
Grooveground, 647 Haddon Avenue – Buy any 2 CDs or DVDs and get 2 FREE (of equal or lesser value).
Collingswood is a historic NJ town 10 minutes outside Philadelphia. Known for its eclectic downtown and BYO restaurant scene it has taken home national recognition including being named a Top 10 Transformed Neighborhood by Forbes, the Best Small Town Food Scene in America by USA Today, the Best Place to Go Car Free by Men's Journal magazine, a Classic Town of Greater Philadelphia by the Delaware Valley Regional Planning Commission and a Great Place in America (Haddon Avenue) by the American Planning Association. The Collingswood Farmers Market was also named the best in the Nation (mid-size) by the American Farmland Trust. For more information visit www.collingswood.com