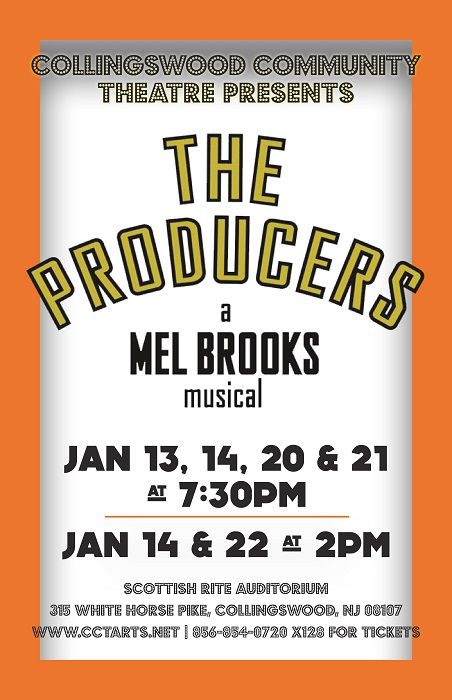 Date/Time
Date(s) - 01/13/17
7:30 PM to 10:00 PM
Location
Scottish Rite Theatre
Categories
The Collingswood Community Theatre is excited to announce its Winter musical-comedy – THE PRODUCERS.
Bialystock and Bloom! Those names should strike terror and hysteria in anyone familiar with Mel Brooks' classic cult comedy film. Now as a big Broadway musical, THE PRODUCERS once again sets the standard for modern, outrageous, in-your-face humor. It is a truly "boffo" hit, winning a record twelve Tony Awards and wowing capacity crowds night after night.
The plot is simple: a down-on-his-luck Broadway producer and his mild-mannered accountant come up with a scheme to produce the most notorious flop in history, thereby bilking their backers (all "little old ladies") out of millions of dollars. Only one thing goes awry: the show is a smash hit! The antics of Max Bialystock and Leo Bloom as they maneuver their way fecklessly through finding a show (the gloriously offensive "Springtime for Hitler"), hiring a director, raising the money and finally going to prison for their misdeeds is a lesson in broad comic construction. At the core of the insanely funny adventure is a poignant emotional journey of two very different men who become friends.
With a truly hysterical book co-written by Mel Brooks and Thomas Meehan (Annie) and music and lyrics by Mr. Brooks, THE PRODUCERS skewers Broadway traditions and takes no prisoners as it proudly proclaims itself an "equal opportunity offender!"  Please note, this show contains bawdy language and humor worthy of a PG-13 rating.
If you liked YOUNG FRANKENSTEIN, you'll love THE PRODUCERS!
Performances will be January 13, 14, 20, 21, 2017 at 7:30pm with matinees on Saturday, January 14, 2017 and Sunday, January 22, 2017 at 2pm in the Scottish Rite Auditorium, 315 White Horse Pike, Collingswood, NJ. Tickets will be $20 adults, $15 students and seniors. Tickets will be available at BrownPaperTickets.com and at the door.
We offer a special rate of $12 per person for groups of 10 or more. Groups must be reserved, paid and picked up or mailed out in advance. No group tickets will be issued at the ticket table. For group reservations, you can reach Terry by email at Terry@CCTArts.net or by phone at 856-854-0720 x128.