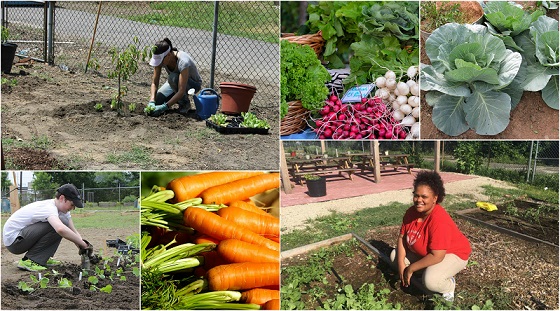 Date/Time
Date(s) - 05/22/17
12:00 PM to 3:00 PM
Location
The Neighborhood Center
Categories
On Sunday, May 21 at 12 noon, The Neighborhood Center of Camden will host its annual planting day in its urban garden. The urban garden was created two years ago through a partnership of The Garden State Discovery Museum, The Children's Garden of Camden, Congregation M'kor Shalom of Cherry Hill and Glassboro United Methodist Church of Glassboro. Over the past three years, the garden has flourished and has produced tons of fresh organic vegetables for residents in the community who do not have access to a local grocery store or fresh food. The food that is grown in the garden is used in the daily meals prepared for members of the community.
For the second year in a row, teen farmers who live in the neighborhood will work in the farm during the summer and will pay it forward by teaching the young kids attending summer camp about growing fresh food and the importance of eating healthy. This family friendly event is great for all ages. It is fun way for kids to get their hands dirty while planting and learning how we grow our food!
In addition, the Neighborhood Center's new Executive Chef/Urban Farmer, Fredric Byarm will helping to lead Planting Day and our Community Garden during the 2017 season.
Fredric A. Byarm is a Culinary Professional with over 36 years industry experience. Fredric graduated from the Restaurant School at Walnut College, Philadelphia, PA in 1992. Fredric is passionate about addressing food insecurity in Camden, NJ and is working not only at the Neighborhood Center as Urban Farmer and Head Chef but also with a group who seek to operate a commercial farm within Camden city limits; so that the residents do not have to travel so far for fresh fruits and vegetables.
This years starter plants were grown by over 600 kids from schools throughout South Jersey. The following is a list of participating schools:
St. Joan of Arc, Marlton
Glassboro United Methodist Church, Glassboro
Congregation M'kor Shalom Early Childhood Center, Cherry Hill
Birches Elementary School, Turnersville
Ellison School, Vineland
Williamstown Middle School, Williamstown
Marlton Elementary School, Marlton
Planting Day will take place at The Neighborhood Center, located at 278 Kaighn Ave. Camden, NJ 08103.
If you are interested in joining us for Planting Day, please contact Kim Coffina at 215-356-7190.