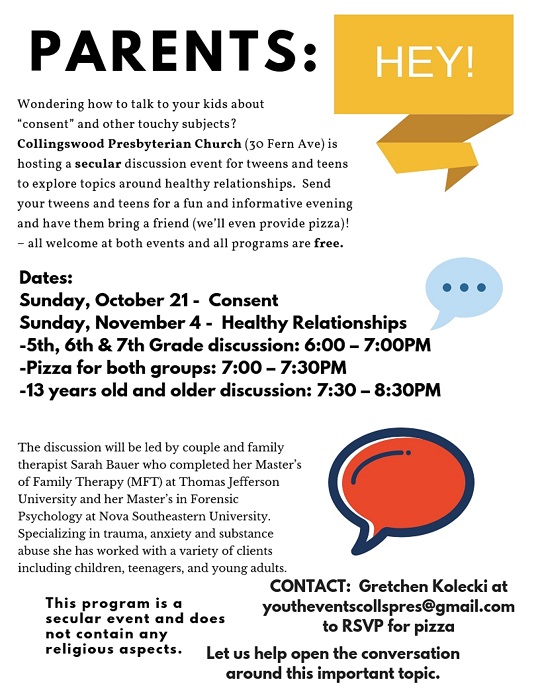 Date/Time
Date(s) - 10/21/18
12:00 AM to 12:00 AM
Location
Collingswood Presbyterian Church
Categories
Wondering how to talk to your kids about"consent" and other touchy subjects? Collingswood Presbyterian Church (30 Fern Ave) is hosting a secular discussion event for tweens and teens to explore topics around healthy relationships. Send your tweens and teens for a fun and informative evening and have them bring a friend (we'll even provide pizza)! – all welcome at both events and all programs are free.
Dates:
Sunday, October 21 – Consent
Sunday, November 4 – Healthy Relationships
-5th, 6th & 7th Grade discussion: 6:00 – 7:00 PM
-Pizza for both groups: 7:00 – 7:30 PM
-13 years old and older discussion: 7:30 – 8:30 PM
The discussion will be led by couple and family therapist Sarah Bauer who completed her Master's of Family Therapy (MFT) at Thomas Jefferson University and her Master's in Forensic Psychology at Nova Southeastern University. Specializing in trauma, anxiety and substance abuse she has worked with a variety of clients including children, teenagers, and young adults.
This program is a secular event and does not contain any religious aspects.
CONTACT: Gretchen Kolecki at youtheventscollspres@gmail.com to RSVP for pizza
This program is a secular event and does not contain any religious aspects.
Let us help open the conversation around this important topic