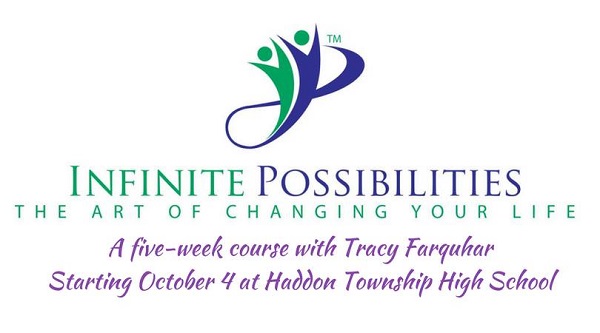 Date/Time
Date(s) - 10/04/18 - 11/01/18
7:00 PM to 9:00 PM
Location
Haddon Township High School
Categories No Categories
Would you like to learn to create happiness, success and abundance in your life? Have you found yourself stuck in old habits and wonder what it takes to make change? Are you feeling like there's something more out there for you?
Join me at Haddon Township High School beginning October 4
for NY Times bestselling author Mike Dooley's Law of Attraction and Deliberate Living program Infinite Possibilities, which is changing lives all over the world! I became a Certified Infinite Possibilities Trainer in 2012, and since then I've taught over 25 classes. I've also co-authored a book with Mike Dooley.
This program can help you flip the limiting beliefs that are holding you back from your true potential for success, happiness and fulfillment. It will show you how to become more mindful of your patterns of thought, use your emotions as signposts, let your intuition be your guide, tune in to your faith, discover your own meaning of life and take the action steps toward your dreams.
Just $50 for the entire 5-week program. Click below for more details and registration details. Seating is limited, so register early!
https://www.haddontwpschools.com/domain/13