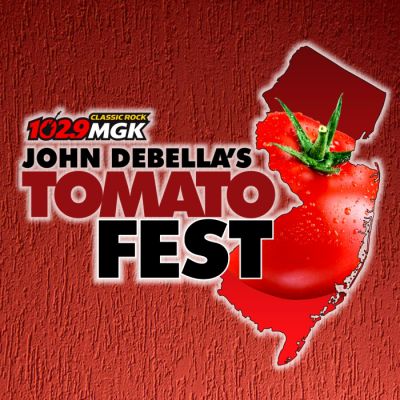 Date/Time
Date(s) - 08/28/16
12:00 PM to 4:00 PM
Location
Cooper River Park - next to Cooper House Restaurant
Categories No Categories
ACTIVITIES
TomatoFest is a FREE event, with…..
Prizes for the Biggest Garden Tomato, Best Mr Tomato Head design*, Best Sauce, Best Salsa & now….$500 in the Tomato Queen** beauty contest.
*Best Mr Tomato Head desgin refers to dressing up a Tomato to look like someone or something.  Please pre-dress tomato BEFORE bringing to event.
Enjoy FREE samples & vote for Best Tomato Pie In The Area
The area's best tomato pie purveyors will offer samples of their pies to attendees.
Attendees will vote for their favorite.
Tomato Pie purveyors that have signed on are:  Tony Roni's, Gennaro's Tomato Pie,  Corropolese, Iannelli's, Carlino's Market, DeLorenzo's Pizza, Holy Tomato Pies, Angelo's Pizzeria , Bruno's Restaurant & Pizza, Gaeta's Pizza.
Have a go at the rotten tomato target practice for your chance to win prizes
Dunk Super Steve from the JDB Show in our dunk tank
Sip ice cold beer & delicous wine & spirits in Cooper House's outdoor beer garden 
DeBella Show's BumpBall battle to determine whether what is put on pasta should be called 'tomato sauce' or 'gravy'
ENTER YOUR TOMATO, SALSA OR SAUCE
To enter all garden tomato contests, just bring your tomato to the event & look for the appropriate table to enter your tomato.
For the Best Salsa contest & Best tomato sauce contest.  All entries in all contests become the property of WMGK.
Important – bring a 12 -16 oz container or smaller of your sauce or salsa. 
Go to the Best Sauce or Best Salsa Registration Table.
Registration will take place between 12p and 1:30p.  Tasting will begin promptly at 1:30p.
Fill out the form. Please be ready to fill out all of the following info upon arrival.
ALL Ingredients (due to any potential food allergies from our judges) , the inspiration for your sauce.Our 3 celebrity judges will use a piece of bread to taste your sauce and tortilla chips to taste your sala. It will be given a 1 to 10 score in the following categories:  Taste, Texture, Appearance.
There will not be a public taste tasting or public voting.  All tasting will be done by our judging panel.
Important – bring a 12 -16 oz container or smaller of your sauce or salsa. 
** THE TOMATO QUEEN CONTEST – WIN $500
WMGK will crown an official Tomato Queen at the event via our Tomato Queen Beauty Contest.  Female contestants that are 18 years or older may enter. Our judging panel will score contestants on the following criteria:  Beauty, Grace, Themed Costume, Crowd Applause.
How to register:
Go to the Tomato Queen Registration Table
Registration will take place between 12p-3p
At 3:30p, all contestants will come to the stage. Each contestant will stand on the stage as John DeBella introduces them to the crowd and judges.
Judges will score contestants in the following categories Beauty, Grace, Themed Costume, Crowd Applause.
At 3:55p, after scores have been tabulated, the Tomato Queen will be crowned. The winner scores a $500 check from WMGK.
HELP THE LESS FORTUNATE – BRING PRODUCE + CANNED GOODS
Attendees are encouraged to bring fresh produce and canned goods to the event.  Food Bank of South Jersey  will be on-site collecting all items at their booth on-site.
PARKING
There will be free parking available on the street and parking lots in and around Cooper House.
SCHEDULE
12p-1:30p – Registration for Best Tomato Sauce, Best Salsa
12p-3p – Registration for Biggest Tomato/Mr Tomato Head & Tomato Queen contest
12p-3:15p – Crowd tastes and votes for Best Tomato Pie
12p-4:00p – Crowd takes part in Tomato Target Practice
12:30p-1:30p – Crowd plays Dunk Super Steve In Tank
1:45p-2:15p – Judges taste Best Tomato Sauce & Salsa entries
2:15p – Winner of Best Tomato Sauce announced
2:15p – Winner of Best Tomato Salsa announced
2:30p-2:45p – JDB Show Sauce vs Gravy Bump Ball Battle
3:35p-3:45p – Tomato Queen contestants parade on stage
3:45p – Winner Biggest Backyard Tomato announced
3:45p – Winner Mr Tomato Head announced
3:50p – Winner of Best Tomato Pie announced
4:00p – Winner of Tomato Queen announced