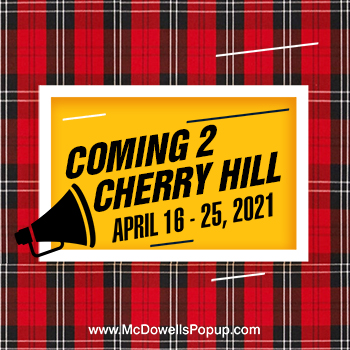 Date/Time
Date(s) - 04/21/21 - 05/01/21
11:00 AM to 8:00 PM
Location
Cherry Hill Mall
Categories
McDowell's pop-up restaurant is coming to Cherry Hill Mall! 10 days only, from Friday, April 16 through Sunday, April 25.
Timed tickets are advance purchase only. Pick your date and time and your food will be waiting, along with fun photo opportunities, displays and merchandise!
Regular MickTicket is $28 and includes your choice of the Big Mick, Chicken Chunks or the Louie Anderson, plus fries and a drink. The Meatless Mick (Impossible Burger on a vegan bun, no cheese) is available for an additional charge. Or go for it all with the Magnum Mick—big enough for two, but you can handle it. Upgrade any regular MickTicket to VIP and you'll also receive a commemorative McDowell's t-shirt.
For kids 10 and under, the Mildly Amusing Meal ($15) includes a child-sized burger or chicken nuggets plus small fries and apple juice or water.
To top it all off—if you dare—indulge in the Sexual Chocolate Cake Shake. Picture a keepsake glass with the rim coated in chocolate and nuts, filled with an extra thick and creamy chocolate milkshake, with a chocolate-covered cherry safely hidden at the bottom. But that's just the beginning! Your shake will be topped with an entire slice of American Marshmallow Chocolate Chip Cake, consisting of three layers of moist chocolate cake, two layers each of marshmallow creme and cookie dough, iced with delicious fudge frosting, chocolate cake crumbs, and more fluffy marshmallow topping.
As part of our extensive COVID-19 safety protocols, tickets are timed to every 30 minutes. First seating each day is at 11:00 a.m. and last is at 7:30 p.m. A portion of the proceeds will be donated to Eastern Pennsylvania Robotics Alliance and other local nonprofits.
Visit https://mcdowellspopup.com/menu for menu details. Complete ticket info can be found at https://galaxyburgerandbeyond.ticketspice.com/mcdowells-pop-up.