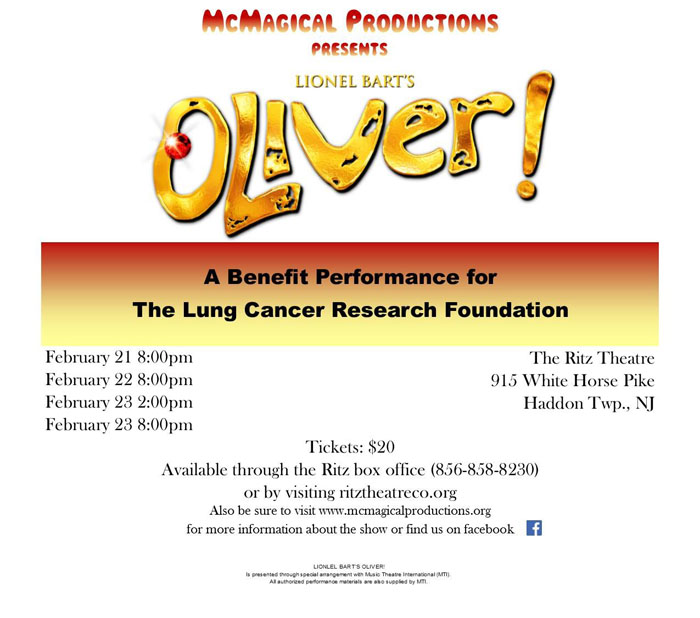 Date/Time
Date(s) - 02/23/19 - 02/24/19
8:00 PM to 10:30 PM
Location
The Ritz Theatre Co.
Categories
McMagical Productions will be performing the beloved musical Oliver! at the
historic Ritz Theatre in Haddon Twp., NJ on February 21 and 22 at 8 p.m.; and February 23 at 2
p.m. and 8 p.m. to raise funds for the Lung Cancer Research Foundation. The production
includes a cast of 40 adults and children from throughout the Delaware Valley. Jack
Barkhamer, from Maple Shade, plays the title role of Oliver and Naomi Serrano, from
Marlton, plays The Artful Dodger. Naomi recently appeared at The Walnut Street Theatre in
Matilda and on NBC's New Amsterdam. Tickets are $20 and are available by contacting the
Ritz Theatre box office at 856-858-8230 or by visiting www.ritztheatreco.org.
Oliver is the story of an orphaned workhouse boy who is sold to an undertaker and makes his
way to London to seek his fortune. There he is taken in by Fagin and his gang of pickpockets.
Oliver is captured for a theft that he did not commit and the benevolent victim, Mr.
Brownlow takes him in. Fearing the safety of his hideout, Fagin employs the sinister Bill Sikes
and the sympathetic Nancy to kidnap him back, threatening Oliver's chances of discovering
the true love of a family.
McMagical Productions is a non-profit organization that was created in memory of and with
the inspiration from Barbara McKinsey, a young dance teacher who lost her courageous
battle with lung cancer in June 2013. McMagical continues to fight her battle and help to
support so many others who are still fighting. McMagical serves those suffering from chronic
diseases by raising money, raising awareness, and raising their spirits through the performing
arts.
McMagical Productions raises funds and awareness for lung cancer research through
donations to the Lung Cancer Research Foundation (formerly Free To Breathe), but they also
support the following charities: Make-A-Wish; NJ CURE HD; Wounded Warrior Project; and
the Hereditary Disease Foundation. For each of their production events, they choose one of
the charities close to their hearts, and proceeds from the event go towards a donation for
that charity. The latest donation was made at the end of 2018 when McMagical donated
$1000 to the Hereditary Disease Foundation.
McMagical Productions is a 501(c)(3) organization and therefore any donations made to them
can be deducted under IRC Section 170.
For more information visit www.mcmagicalproductions.org.