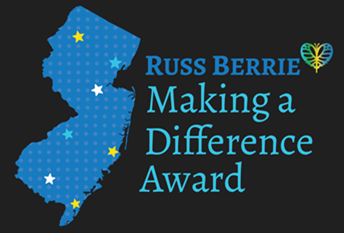 Date/Time
Date(s) - 01/15/23 - 02/10/23
12:00 AM to 11:59 PM
Categories
NOMINATE A NEW JERSEY COMMUNITY CHANGEMAKER FOR THE RUSS BERRIE MAKING A DIFFERENCE AWARD
2023 Submissions Due February 10, 2023
Each person knows an individual who gives back to the community by creating positive change. The Russ Berrie Making a Difference Award has been recognizing those changemakers for almost 30 years. Nominations are now open for the 2023 awards through February 10, 2023. Established by the late Russell Berrie and hosted by Ramapo College of New Jersey, the awards honor New Jersey residents whose outstanding community service and heroic acts have made a substantial impact on the lives of others.
"For over 25 years, the impact of over 4,000 nominees and 408 winners of the Making a Difference Award has created a powerful network of change and resilience across all 21 counties in the Garden State," said Angelica Berrie, president of the Board of Trustees of the Russell Berrie Foundation, the non-profit organization which carries out Russ Berrie's legacy and philanthropy by recognizing New Jerseyans who are creating positive change in their communities. "What a powerful difference this network has made. Honorees are pioneers, innovators and social entrepreneurs from varying ethnic backgrounds reflecting the richness of New Jersey's diversity."
With over 400 honorees since the inception of the Russ Berrie Making a Difference Award in 1997, more than $3.9 million in cash awards have been presented to recognize the personal sacrifices and commitments these individuals have made to serve others. Their work is improving people's lives and making communities stronger. The nominees include community leaders, affinity groups, ethnic and religious organizations, nonprofit leaders, volunteers, among many others in such areas as community service, volunteerism, social justice, community life, environmental issues, and a range of advocacy topics.
Ten outstanding changemakers will be honored at the 27th Anniversary Award Ceremony on May 5, 2023. There will be one top award of $50,000; two $25,000 awards, and up to seven $7,500 awards.
"It feels good to know that somebody appreciates the work that we do because there's a sacrifice every day to get up and make the decision to help somebody else do better," said 2022 Honoree Al-Tariq Best, Founder of The HUBB (Help Us Be Better), a center to help youth in Essex County who have faced trauma. The HUBB Center offers empowering experiences using arts, education, entrepreneurship and access to mental health services.
Nominations can be submitted through February 10, 2023 at www.BerrieAwardNJ.org.
"It's incredible that the Russ Berrie Award is given to people like me," said Lynn Regan, 2021 Honoree, Founder of CFC Loud N Clear Foundation, a recovery aftercare organization in Farmingdale that was structured around the successful relapse prevention strategies that she created to help her son, Daniel, rebuild his life after suffering from addiction. "I'm a mom, and many moms have gone through this journey. To be noticed, does fuel more passion and makes us continue our work and continue to heal families."
For more information, visit www.BerrieAwardNJ.org.