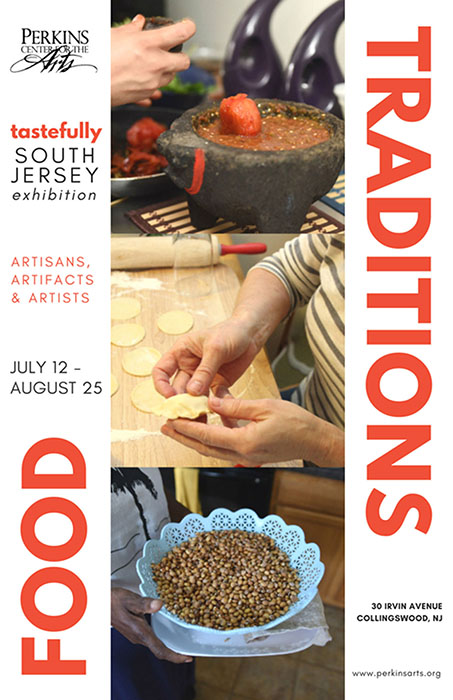 Date/Time
Date(s) - 07/12/18 - 08/25/18
12:00 AM to 11:59 PM
Location
Perkins Center for the Arts Collingswood
Categories
An exploration of food traditions from Caribbean, Eastern European, West African, African-American Southern and Latino cultures and how they are sustained in our communities.
Featuring: documentary of tradition keepers, artifacts, photography, visual art and interactive exhibits.
Opening Reception
July 12, 2018 – 5:00 – 8:00 p.m.
Interpretive Tour of Exhibit, Tastefully South Jersey Presentation, Food Tasting
Taste of West Africa and African-American Soul
July 14 – 10:00 – 2:00 p.m.
Universal African Dance and Drum Ensemble, Food Demonstrations, Soul Line Dancing with I am Kenny J, Broomcorn Doll Making Workshop with Alma Day (Limited, registration required)
Taste of Poland and Turkey
July 28 – 10:00 – 2:00 p.m.
Monique Legare International Folk Dance Performance and Workshop, Food Tasting, Turkish Lace-making Workshop (Limited, registration required), Tea-for All Demonstration
Taste of Mexico and Peru
August 18 – 10:00 – 2:00 p.m.
Eco Del Sur: Music from the Andes and Latin America, Food Demonstrations, Heritage Preservation Day
Becoming American: It's not a Melting Pot… It's Pot Luck
August 23 – 6:00 – 8:30 p.m.
Take a seat at our community table to discuss and celebrate America's immigrant fortune and delight in cultural food fare
Taste of the Caribbean
August 25 – 10:00 – 2:00 p.m.
Hosted by South Jersey Caribbean Cultural Organization featuring Steel Pan Performance and Workshop, Island Delights and Differences Panel Discussion, Food Tasting, SocaFitness
For more information and workshop registrations visit our website: www.perkinsarts.org.
All exhibition events are free with exception of material registration costs for two workshops.