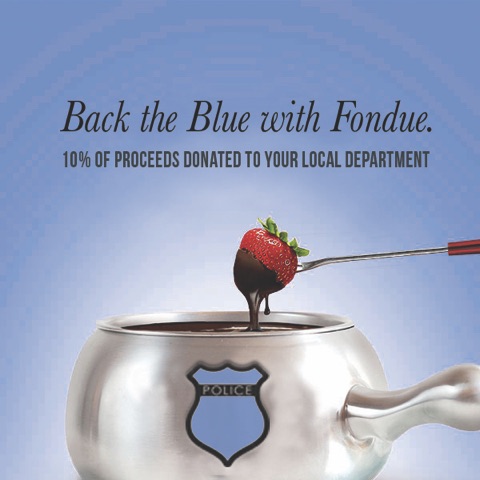 Date/Time
Date(s) - 09/12/16 - 10/10/16
12:00 AM to 12:00 AM
Location
The Melting Pot
Categories
Gather the family and friends and fondue for a cause! We're fortunate to be surrounding by outstanding fire responders that not only protect, but honorably serve our communities. So it's our turn to support them. Mention your local police, fire or emergency services department and we will tally up the sales and donate 10% of the proceeds from our Back The Blue menu.
For full press release, click here. 
4 Courses $34.00 per person 
$6.95 Back the Blue Featured Martini
-Choice of Cheese Fondue- 
Cheddar, Alpine Swiss, Cherry Pecan, Red Pepper Gorgonzola, Bacon Brie, or Spinach Artichoke
~Individual Choice of Freshly Made Salads~
Caesar Salad, Apple Bacon Salad, California Salad, or House Salad
Each salad is served with our unique, homemade dressings 
Entree includes: 
Teriyaki Sirloin, Lemon Pepper Chicken, White Shrimp, and Spinach and Artichoke Raviolis ( all entrees are served with an array of homemade sauces and fresh vegetables) Cooking Styles include court bouillon.
We are also offering our premium cooking styles of Bourguignonne-$3.95 ( per pot), Mojo $4.95 (per pot), Coq au Vin $5.95 ( per pot) 
Featured Chocolate: Cookies and Cream Dream
Or choose from any of our decadent chocolate fondues!