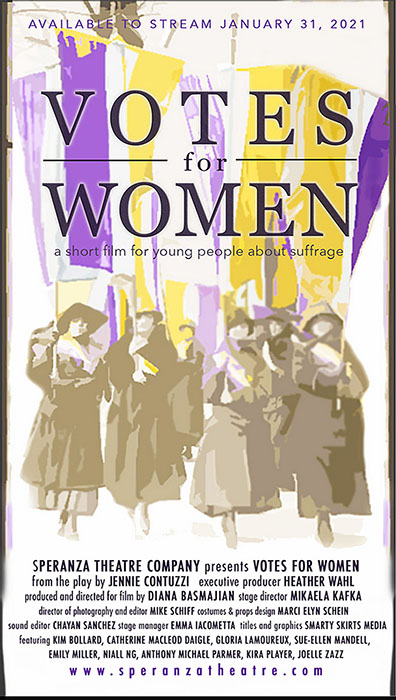 Date/Time
Date(s) - 01/31/21
5:00 PM to 6:00 PM
Categories
Join Speranza on Sunday January 31, 2021 at 5pm EST/ 2pm PST for the premiere of VOTES FOR WOMEN! Filmed on location at Paulsdale, the childhood home of suffragist Alice Paul, the audience will be introduced to historical figures Alice Paul, Ida B. Wells, and Lucy Burns. Post film talkback will follow the screening featuring Jennie Contuzzi (playwright), Diana Basmajian (film director), and Heather Wahl (executive producer).
Sunday January 31, 2021 – 5pm EST / 2pm PST
Tickets – early bird special $25 (through 1/24 – code: early bird); General Admission $30. Advance reservations required.
Purchase Tickets Here: www.speranzatheatrecompany.com
Family-friendly. Recommended for ages 8+
VOTES FOR WOMEN – a film adaptation of the historical play written by Jennie Contuzzi:
It is 1913, and thousands of women gather in Washington, D.C. to march for a constitutional amendment guaranteeing women the right to vote. For a family audience of all ages, this emotional story is told from the perspective of the women who led the charge and paved the way for the fight for equality.