The business that the Sonsini family opened in 1971 with $1,000 and a lot of sweat equity is relocating to Glendora.
By Matt Skoufalos | February 7, 2019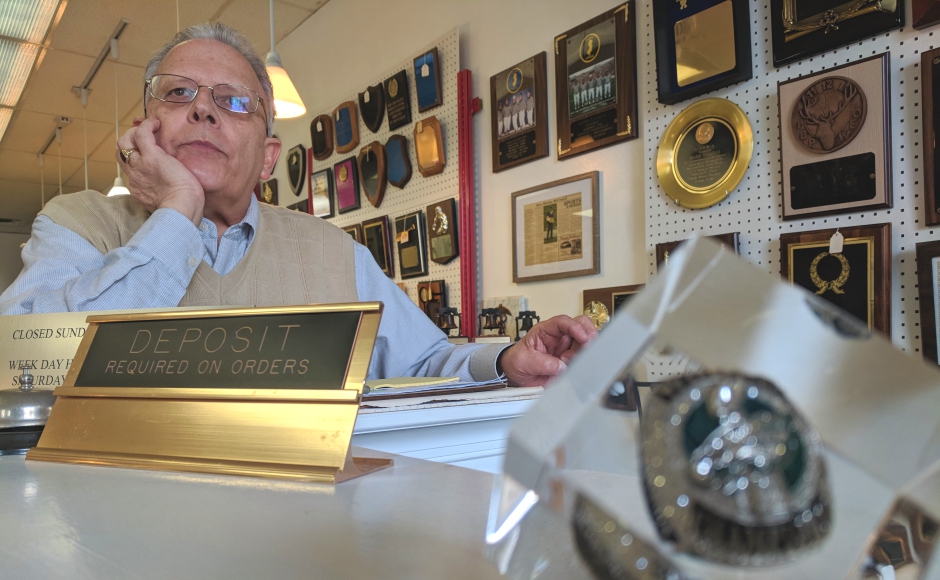 If you've won any kind of accolade in South Jersey in the last half-century, there's a good chance Bill Sonsini has had a hand in it.
As he approaches his 73rd birthday this April, the soft-spoken father of three will mark his 60th year in the awards business.
For 48 of them, All-Star Awards & Trophies has held a storefront in the 800 block of Haddon Avenue in Collingswood.
Now Sonsini is preparing for the next phase of his career, as All-Star relocates to a new storefront in Glendora.
For the Philadelphia native and longtime Somerdale resident, it's just the next step in a journey that began with a move to Audubon at the age of 13. The family never had a car, so he would explore the neighborhood around their Pine Street home on foot.
A frequent destination was Mike Hayes' Sports Shop, which Sonsini would visit almost daily. Hayes eventually offered him a stockboy job for a dollar an hour. Sonsini held it through his high-school graduation.
"I never played any sports in high school, but I knew all the athletes because I worked in the sporting goods store," he said.
Sonsini stayed with Hayes after the shop moved to Oaklyn, and until he was drafted into the U.S. Army in 1965. Even after he returned from Vietnam, Sonsini would use his leave passes from Fort Benning, Georgia to come home and work in the shop on weekends.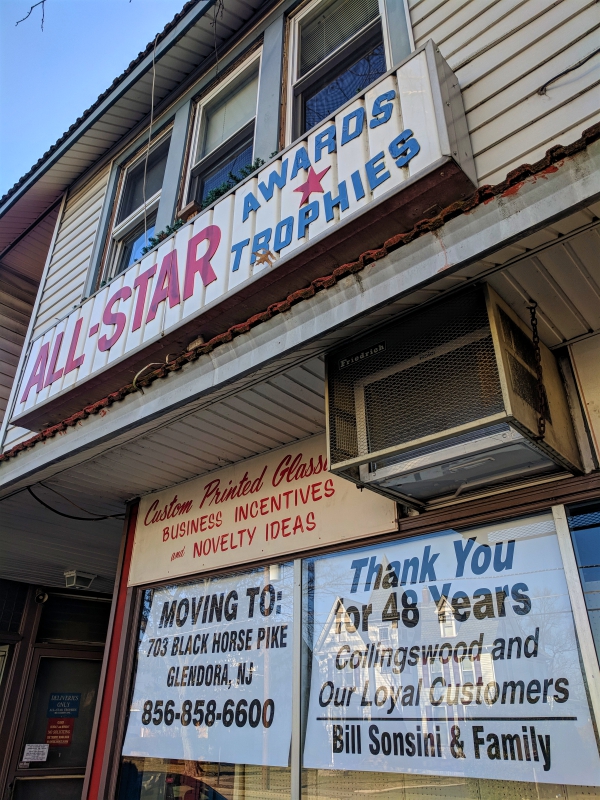 Sonsini worked for Hayes after his military service was concluded, until the business was sold in 1969.
Afterwards, he took a job at another sporting goods store in Cherry Hill, but it wasn't the same.
Then, about eight months later, Sonsini and his wife, Maryann, were walking in Collingswood when they passed a for-rent sign in the window of 866 Haddon Avenue.
With little more than $1,000 in cash and an AMC Rambler, they decided to open up their own shop.
They called the business All-Star Awards and Trophies.
Building the business took a lot of legwork. Sonsini worked the phones and drove all around the state to build his clientele.
Maryann continued working at the Bank of New Jersey (which became the DePace Sports Museum) while she helped with the books. They folded as much as they could back into the company.
"I just worked there, made enough to get my daughters through college and get them married, and everything developed," Sonsini said.
"Sometimes you don't think you did enough, but you talk to your family and look back, and they tell you, 'You did plenty for us, Dad.'"
Along the way, All-Star built a reputation for the quality of its work.
Sonsini provided presentation plaques for celebrities playing the Latin Casino in Cherry Hill, and trophies for the trotters at the Garden State Racetrack.
For the 1976 bicentennial, he and his retired father worked three days around the clock to complete an order of custom gold coin engravings, which was marked by armored car pick-up and drop-off.
At its peak, All-Star employed a staff of 10, six of whom were engravers, working swing shifts to keep up with demand.
"When I opened up, I was the only specifically trophy company on this side of the [Delaware] river," he said.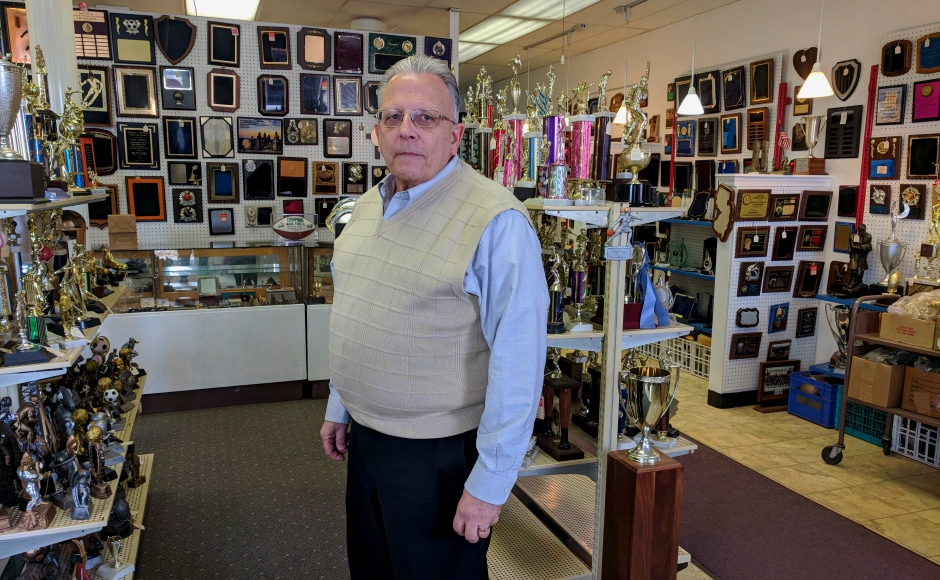 "Back then, the engraving was all manual, a pantograph machine, which I still use."
Sonsini always kept a hand in the sporting goods business, and organized recreational athletic leagues on the side, which he still does.
Like the champions whose victories his work commemorates, Sonsini believes he simply "tried to accumulate more wins than losses" in his career.
Even as the business evolved—competitors followed, awards switched from metal to plastic when American foundries closed up, computer engraving emerged—Sonsini kept up with it.
After a 48-year career in the awards business, he's also got enough perspective to dispel the generational myth of the millennial "participation trophy." Sonsini said he saw more of that kind of business from boomers during the 1950's and 60's, when "bowling was the highlight of everything."
"Every bowling alley gave everybody that played in the league a bowling trophy," Sonsini said. "They had first-half and second-half trophies, most improved average; just like a punt, pass, and kick contest.
"Everybody was competing for the biggest trophy because trophies were not part of the scene back then," he said. "We used to do thousands of them when I worked for Mr. Hayes, but then people got tired of it."
As interest in bowling waned, alleys cut back on their awards.
"Then people had to buy their own, and they started being a little more discreet in how they were spending their money," Sonsini said.
"When I first opened up, we were doing 80 to 90 bowling leagues," he said. "When it ended, it probably dropped down to six or seven; now I do four or five."
So where does the participation trophy narrative originate? Sonsini said that as organized youth sports leagues multiplied, so did local, regional, and state tournaments that promised to raise the visibility of prospective players.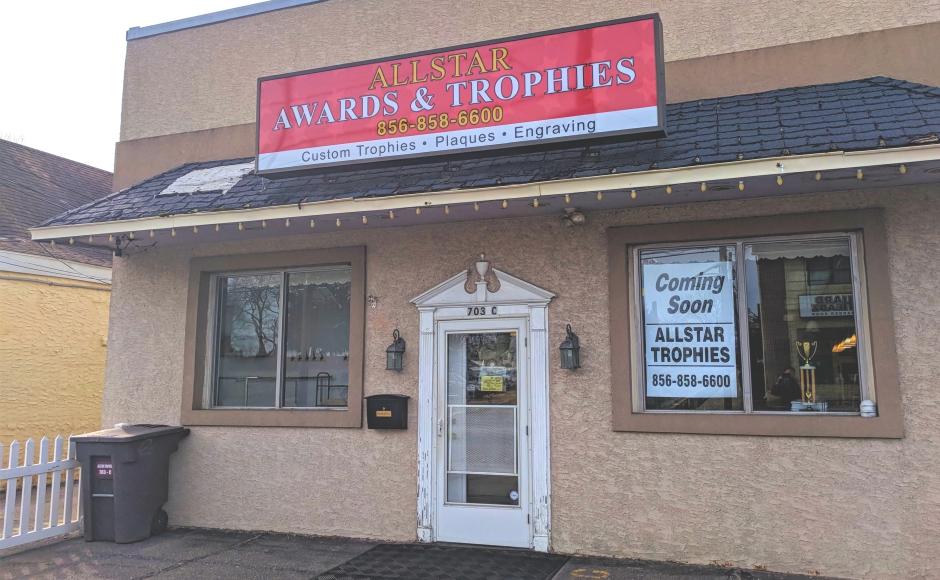 But tournaments are ultimately fundraisers, and when entrance fees spiked with the costs of insurance and officiating, organizers started handing out more awards to justify some of the expenses.
Those gave rise to commemorative medals, certificates, or sponsored tee shirts, but in terms of orders, participation trophies are "very rare," Sonsini said.
"[People] just assume because they see them go out there that everyone gets a trophy," he said.
"Too many events times too many trophies, and the next thing you know, your business is cut in half," Sonsini said. "That's why we went into a more specialized type of work."
To this day, All-Star still has a strong business and a dedicated following, and as long as he's physically and mentally able to do the work, Sonsini doesn't have "a deadline to ending it."
He is transitioning more work to his colleague, Mark Fanelli, a high-school and NCAA football official who also works as a timekeeper at Lincoln Financial Field. But for the foreseeable future, Sonsini can still be found behind the counter at All-Star's new location on the Black Horse Pike in Glendora.
"My business is strong," he said. "I don't have a deadline to ending it, as long as I can stay healthy."
So why do people still treasure physical awards in the digital age? Rather than being signifiers of former glory, Sonsini believes a plaque or trophy can sweeten a meaningful experience with time.
"I think when you're young, you're impressed by an accomplishment," he said. "As you get older, you realize how much it really did mean in your life," he said.
"People want that memory."