The eatery, which made a name for itself in downtown Haddonfield, will cook its first pies after nearly a yearlong layoff.
By Matt Skoufalos | January 18, 2019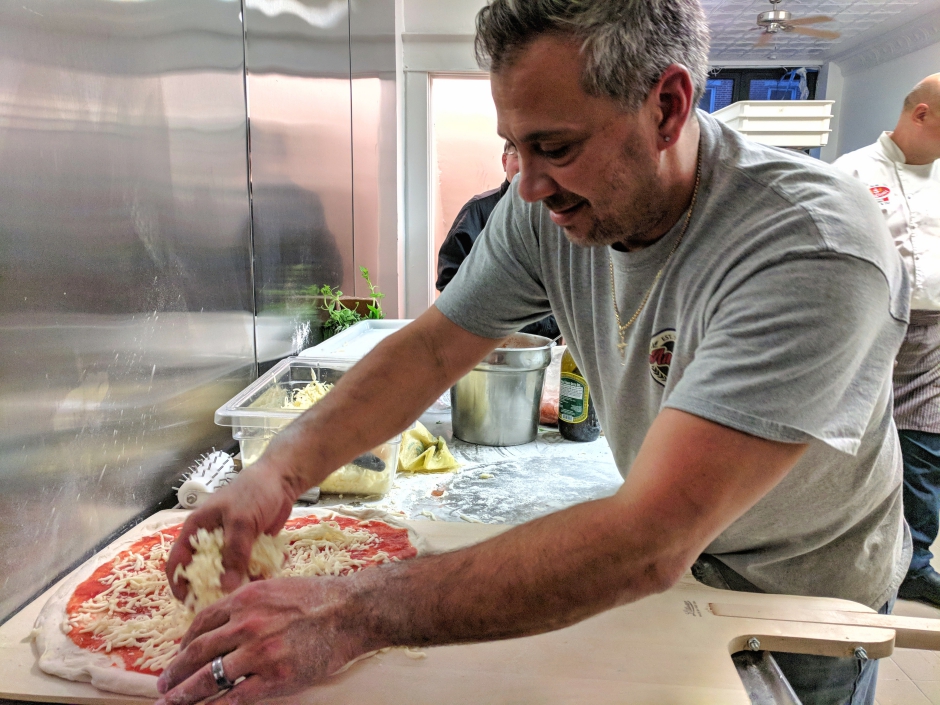 When your five-year-old pizzeria keeps winning accolades and selling out of food, the last thing you think of doing is packing it all in and leaving town.
But for Danny DiGiampietro, that's been the story of Angelo's Pizzeria, his wildly popular Haddonfield eatery, which closed for good in the spring of 2018.
It's been a rollercoaster ride since DiGiampietro shuttered his Haddon Avenue storefront; a blur of architectural renderings, utilities upgrades, and extended conversations with the City of Philadelphia's Department of Licenses and Inspections.
For a baker with a cold oven, the days and months have been hectic and sluggish at the same time; an endless wait and a deep drain on finances.
But on Tuesday, January 22, that all turns over again, as DiGiampietro reopens Angelo's at a new location—736 South 9th Street in Philadelphia—with new infrastructure, and a renewed sense of purpose.
All that's left to do is get to work.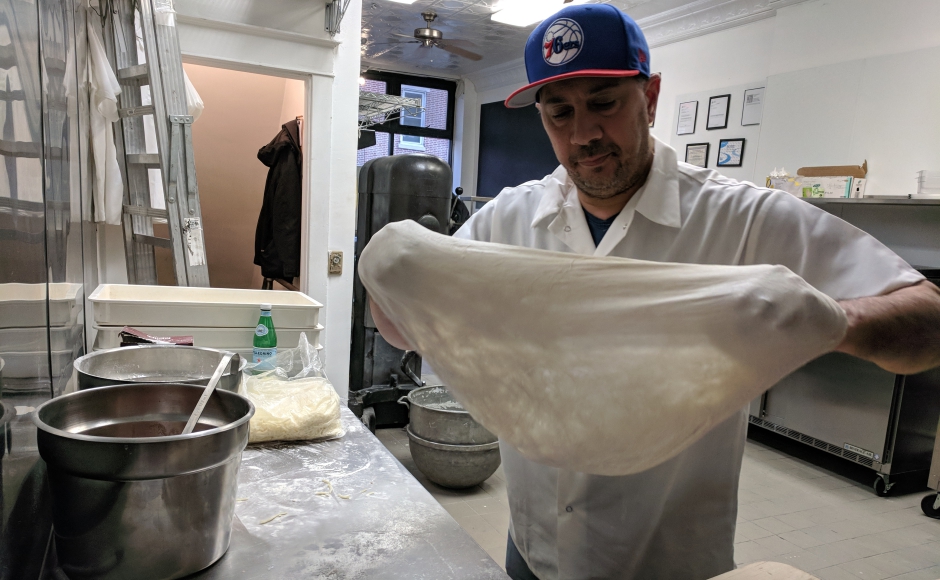 The former Sarcone's Deli on 9th Street was originally meant to be a satellite location operated in tandem with his Haddonfield storefront.
Instead, it ended up becoming the escape hatch from a deteriorating property on which tenant and landlord couldn't come to terms.
"It was never my intention to leave Haddonfield," DiGiampietro said. "I loved it there. It was my baby. Everybody was beautiful to us. Unfortunately, it just didn't work out."
But now, as he prepares to open the doors of the new Angelo's Pizzeria, it seems like things have worked out that much better for DiGiampietro in a number of ways.
For a start, the 700 block of South 9th is home to family: his in-laws, the Sarcones, operate the famous Philadelphia bakery just five doors down. His children, Lucia and Angelo, for whom the shop is named, play at their grandmother's house across the street.
"My wife [Lauren] grew up on this block under the tradition that Sarcone's bakery built, and hopefully my kids will grow up under that same tradition, plus whatever we build for ourselves here," DiGiampietro said.
Then there's the expanded capacity. His cooler in Haddonfield could hold about 200 pizzas worth of dough; in Philadelphia, DiGiampietro's walk-in maxes out at 3,000. In the new environment, his sourdough starter can prove longer, building a greater depth of flavor and character.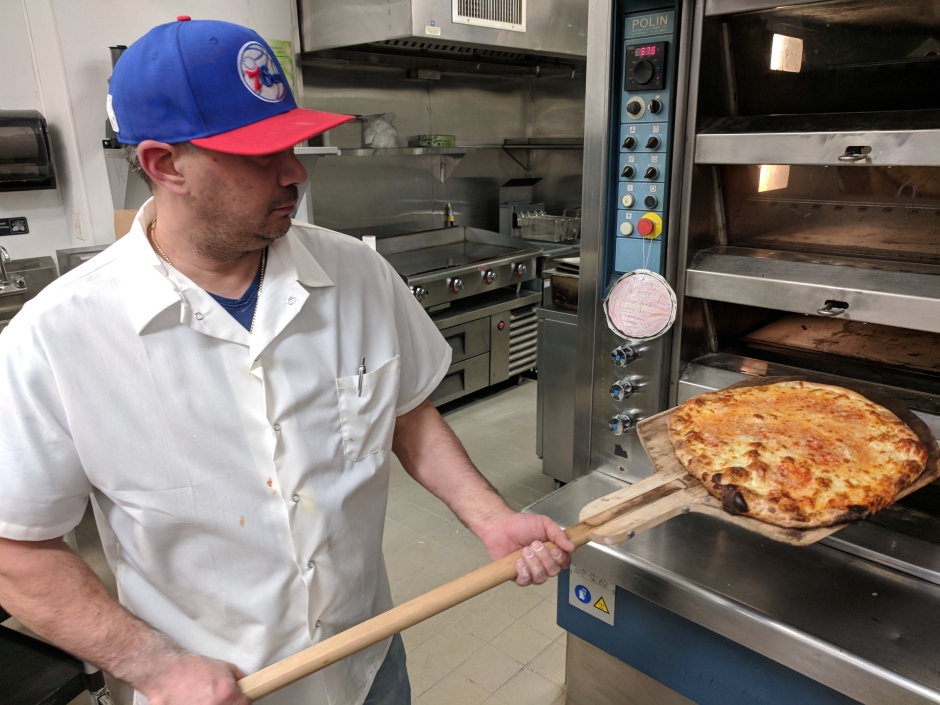 (It also means inventory won't be short the next time his pizza makes someone's best-of list and orders spike unexpectedly—when dough that requires a three-day ferment is gone, it's not something that can be slapped together on demand.)
The centerpiece of the new restaurant, however, is a Polin oven, imported from Italy and assembled by hand in Philadelphia.
It's DiGiampietro's ultimate toy, a multi-chambered beast with steam tubes that dial in precise temperatures for whatever's cooking, and a capacity five times that of his former ovens.
He envisions pulling out a freshly-baked cheesesteak roll from one deck, and topping it with meats cooked in another.
"You don't open pizza shops with this oven, you open a bakery with this oven," DiGiampietro said. "This oven is more about versatility than it is quantity."
As for the dough itself, Angelo's will rely on "double-zero" imported Italian flour, a powder-fine grind that DiGiampietro says keeps the crust from getting overly chewy as it sets.
"We'll be able to do any kind of pizza, and we will," he said.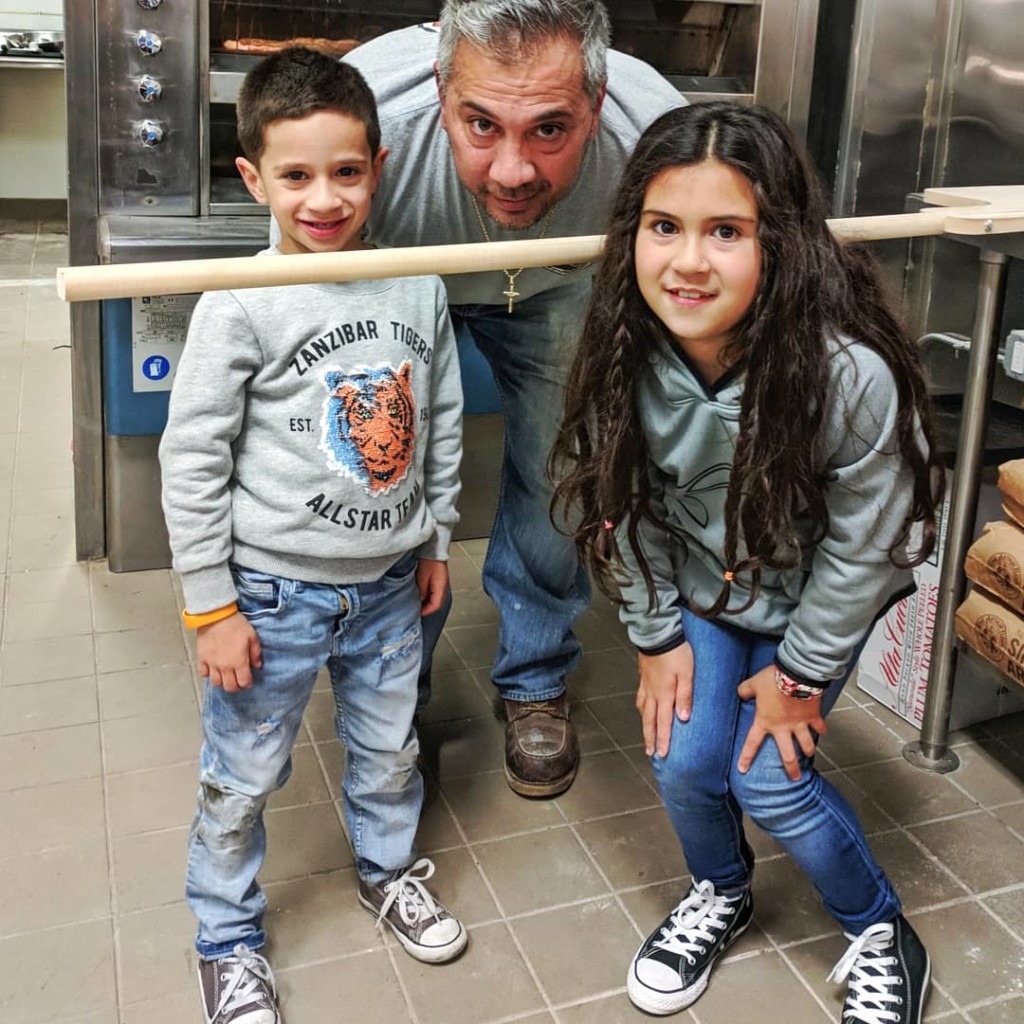 Among the varieties of pizza DiGiampietro plans to offer are his "upside-down jawn," a cheese-first, deep-dish, square pie; the Grandma, a thin-crust, New York-style square pie, and the Trenton, a thin-crust, circular tomato pie.
"In the beginning, we're going to do our Haddonfield menu, and then we'll branch out to different styles," he said.
DiGiampietro will support those with fresh-meat cheesesteaks, cutlet sandwiches, and colossal salads, with an eye toward house-baked bagels and breakfast service in the future.
His approach often veers from the traditional, but every dish is cooked to order, and DiGiampietro is quick to recall a regular's favorites.
"Food's real subjective," he said. "When you get home, and you flip open that box, or you unwrap that sandwich, the first instinct I want you to have is, 'Oh wow, this guy really cares.
"I want there to be no denying that we did everything we could, whether it's an order of plain French fries or one of our cutlet sandwiches," DiGiampietro said. "I want people to know that just by seeing it, just by smelling it, that this guy cares."
At its utmost, a good meal is more than mere nourishment. It can be a bridge between generations, an escape from the cares of the day, or an expression of love.
For DiGiampietro, his food doesn't even have to be the centerpiece of the experience. He's at his happiest when he sees his work enjoyed as a piece of a larger whole.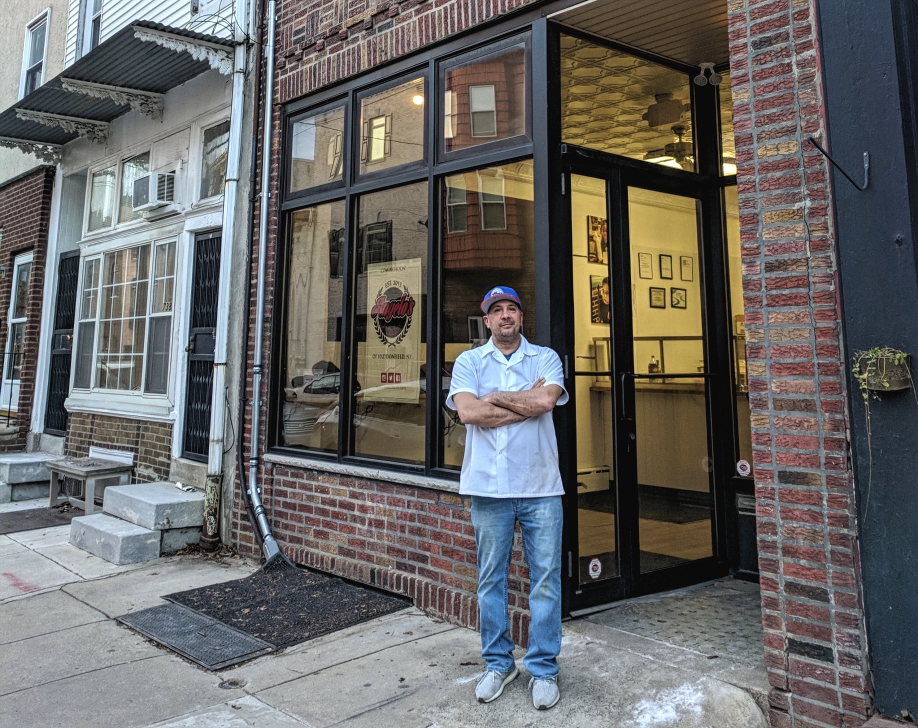 "All the sporting events I ever went to with my dad, I couldn't tell you who they played or what the score was," DiGiampietro said.
"But I could tell you where we ate beforehand, and those were my fondest memories.
"In Haddonfield, I started seeing guys come in with their sons, or even their mothers, and I would see dad say, 'Get ready for this cheesesteak,' or, 'Get ready for this pizza,'" he said.
"That's what it's about.
"It's been a long process," DiGiampietro said; "a lot longer than I thought. But we are ready to go.
"I am set up with everything I've ever dreamed of having and then some," he said.
Angelo's Pizzeria is located at 736 S. 9th Street (9th and Fitzwater) in Philadelphia. The shop is open 11 a.m. to 9 p.m. Tuesday through Thursday, until 11 p.m. Friday and Saturday, and from noon to 8 p.m. Sunday.