For the second time in less than a week, firefighters braved freezing temperatures to pull a dog out of an icy waterway.
By Matt Skoufalos | January 23, 2019
Photos by Curt Hudson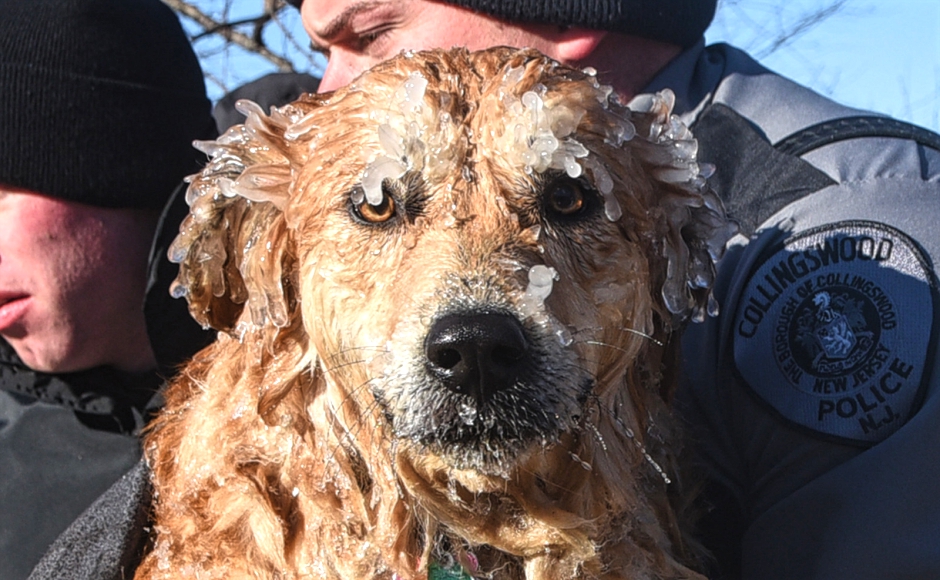 For the second time in five days, Collingswood firefighters headed into frozen local waterways to rescue a stranded dog.
Fortunately for a local family, the outcome was much better the second time around.
The incident began around 1:30 p.m. on January 21, when two bystanders called 9-1-1 to report a dog had fallen through the ice at Cooper River Park.
By the time emergency services reached the scene, the animal was about 100 feet off the shoreline.
"We saw the dog in distress," said Collingswood Fire Chief Keith Davis. "She was just swimming around and keeping her head up. We deployed like we would with a rescue for a person."
Firefighters Julian D'Alonzo and Kyle Jarozynski donned insulated suits and headed out onto the ice, belayed by ropes from the shoreline. It was the first water rescue in which either had take part, and the effort was a tricky one.
"The ice wasn't thick enough to support our weight, so we couldn't get out there with our sled," the chief said. "They had to walk and break through the ice to make a path out there."
"We had to use our body weight, use our axes; anything we had to break the ice," D'Alonzo said. "We were only moving two feet at a time."
"It was really cold," Jarozynski said. "A lot of adrenaline pushed us through to get out there and make the rescue."
The firefighters made it out to the dog, a Golden retriever mix, in about 14 minutes, Davis said. Jarozynski put his arms around the animal and held her to his side while personnel on the river banks pulled them both back to shore.

With many local veterinary offices closed due to the Martin Luther King holiday, Collingswood Police transported the animal to North STAR Vets in Maple Shade, where she was treated and released to her family.
Davis said the pet owners, Collingswood residents, believed the animal had escaped their yard when gusting winds blew open a gate on the property.
He urged residents to keep an eye on pets and children in the winter months.
"We're getting into that season where ice is starting to form on the surrounding bodies of water—Newton Lake, Cooper River, and Knight Park.," Davis said.
"No ice is safe, especially where it's a little deeper," he said. "It may look and feel stable, but it doesn't take much to fall in, and hypothermia sets in real quick."
Although it was their first water rescue, D'Alonzo and Jarozynski credited their colleagues and their training with getting them through. After about 20 minutes in the county relief bus, the pair were warmed up and ready to re-deploy.
"This is just like anything else," D'Alonzo said. "You train so much for it, and you have confidence in your team on the shore that they're going to take care of you."
"It was a tense situation to get out there quickly, but we train on this," Jarozynski agreed.