With federal support, state officials will stand up a handful of closed testing sites in communities across New Jersey that have been disproportionately affected by the pandemic. Plus: parents can attend youth sports events.
By Matt Skoufalos | February 13, 2021
Another 3,285 New Jersey residents have tested positive for novel coronavirus (COVID-19), bringing the statewide total to 660,067 cases confirmed via polymerase chain reaction (PCR) testing, Governor Phil Murphy reported Friday.
New Jersey is also reporting 775 new COVID-probable cases based on antigen tests, bringing the statewide total to 79,995 positive antigen tests.
Antigen tests have a faster turnaround time than PCR tests—sometime within 15 to 30 minutes—but are less reliable at detecting active infection of the virus and more capable of reporting false positives.
Sadly, 64 more residents have perished from complications related to the virus, bringing the statewide, confirmed death toll to 20,147 lives lost during the pandemic.
In addition to those lab-confirmed fatalities, the state has acknowledged another 2,246 probable COVID-19-related deaths.
Since March 2020, 706 of every 100,000 New Jersey residents have been hospitalized with COVID-19, and 228 of every 100,000 have died from COVID-19-related complications.
More than 9.92 million polymerase chain reaction (PCR) tests for COVID-19 have been performed statewide, with a 7.47-percent positivity rate per 100,000 residents.
Even as New Jersey residents are waiting to be vaccinated against the virus, the governor urged them, "Don't give up getting tested." Knowing your COVID status is important "even before scheduling a vaccination," he said, noting that 60 percent of COVID-19 cases are transmitted by asymptomatic individuals.
Rate of transmission (Rt) at 0.81, spot positivity lowest in South Jersey
The statewide average of COVID-19 spot positivity testing based on PCR test results stood at 7.19 percent February 8; in South Jersey, it was lowest, at 5.48 percent.
Rt, the variable that describes the seven-day, rolling-average, statewide rate of transmission of new COVID-19 cases, hit 0.81 from samples taken February 10.
An Rt figure greater than 1.0 means that each new COVID-19 patient is infecting more than one other person, on average, and the spread of the virus is increasing.
Since its mid-April COVID-19 spike, the highest reported RT in New Jersey was 1.48, recorded August 1. The lowest was 0.62, recorded June 9.
Hospitalizations continue to trend downward
Throughout New Jersey, 2,565 people currently are hospitalized with a suspected (195) or confirmed (2,370) case of COVID-19, Murphy said.
Among those hospitalized patients, 525 are in intensive or critical care, and 336 of the ICU and critical-care patients (64 percent) are on ventilators.
In New Jersey's 71 critical care hospitals, 261 patients were hospitalized with COVID-19 yesterday, while 367 others were discharged.
Across the state, long-term care (LTC) centers have reported 1,243 cumulative outbreaks of COVID-19, and 399 are dealing with an active outbreak. LTCs account for 52,767 infected patients and staff in New Jersey, eight percent of total cases.
That includes 32,027 residents and 20,740 staffers sickened by the virus, as well as 7,846 lab-confirmed resident and staff deaths (39 percent of the statewide confirmed total), with facilities self-reporting 145 staff deaths.
Of 656 veterans residing in three state-run homes, 438 residents have tested positive for COVID-19, and 155 have died from complications related to the virus.
Eight veterans presently are hospitalized with COVID-19, and 295 have recovered from the virus.
MISC cases; schools
At state-run psychiatric facilities, 332 of 1,151 patients and 935 staff members have tested positive for COVID-19. Fourteen patients and seven staffers have died from complications related to the virus.
To date, 88 New Jersey children aged 1 to 18 have been diagnosed with pediatric multisystem inflammatory syndrome (MISC), according to New Jersey Health Commissioner Judy Persichilli.
All those pediatric patients have tested positive for an active COVID-19 infection or the presence of COVID-19 antibodies, indicating exposure to the virus. No deaths have been associated with this syndrome in New Jersey, although several children have been hospitalized during their treatment, and three currently are.
Since August 1, 142 COVID-19 outbreaks encompassing 671 individual cases have been traced to schools in 19 New Jersey counties. In Camden County, 14 outbreaks have been linked to 70 cases, second-most in the state.
Vaccination update
Across New Jersey overall, 1.244 million vaccinations have been administered to date: 933,160 first doses, and 310,529 second doses.
Of those, 71,483 have been administered in Camden County, seventh-most in the state.
39 B.1.1.7 cases reported in New Jersey
Five more cases of the B.1.1.7 COVID-19 variant, also known as "the UK variant," have been identified in 12 New Jersey counties, Persichilli reported, bringing the statewide total to 39 cases.
That's up from a total of 31 cases earlier this week. They are dispersed across the state as follows:
Ocean County – 14
Essex County – six
Burlington County – four
Morris County – three
Hudson, Middlesex, Monmouth, and Passaic Counties – two each
Atlantic, Hudson, Mercer, and Warren Counties – one each
Only three of the B.1.1.7 patients had known travel histories, the commissioner said.
Officials continue to track the incidence of the variant, which is believed to be no more dangerous than other strains of COVID-19, but significantly more easily spread.
Dr. Ed Lifshitz, who heads up New Jersey's Communicable Disease Service, said that the B.1.1.7 variant is the most prevalent COVID-19 variant in the United States, "and certainly one of concern." Lifshitz noted that health officials continue to chart the progress of the variant, and as of now, aren't seeing "large groups of people who look like they got infected together."
New equity-based COVID vaccination sites
In the coming weeks, the state will open a number of equity-based COVID-19 vaccination sites in vulnerable, "high-need" communities across the state, starting with Franklin Township, Trenton, Elizabeth, Vineland, and Patterson.
The sites will operate seven days a week for two weeks, and then return in the future to administer second doses.
Murphy described them as "closed points of distribution for members of the immediate community only," and appointments will be required for patients to attend.
"These cities have been strategically selected, as they have been disproportionately impacted by COVID-19, and are some of the most diverse and socio-economically challenged communities in the state," the governor said.
The aim of the program, which starts February 15, is to vaccinate 15,000 New Jerseyans by the end of March. Appointments will be coordinated locally with community organizations and local leaders, supported with clinical staff from the U.S. Department of Defense and non-medical staff from the U.S. Federal Emergency Management Agency (FEMA).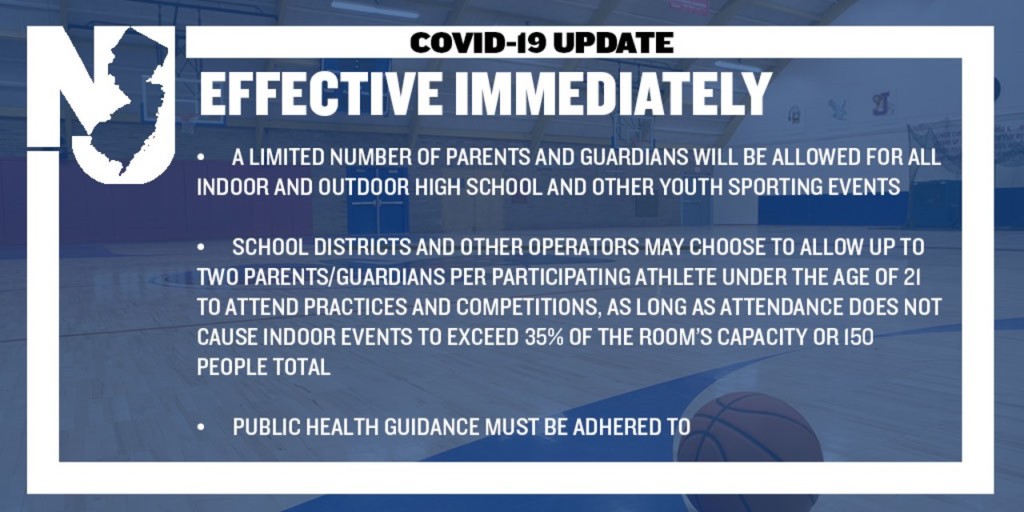 Parents allowed to attend youth sports games
On Friday, Murphy also signed an executive order permitting parents or guardians of student athletes (younger than 21) to attend sporting events.
As many as two parents or guardians per athlete may attend any of these events, indoor or outdoor, up to the lesser of 150 people or 35 percent of event capacity. School districts will retain the ability to impose guidelines stricter than these, including denying spectators at their events altogether, as well as the discretion of when to roll out these rules.
All spectators must observe all pandemic protocols, including social distancing, face coverings, and sanitization. Should a positive case arise from an event, all spectators must cooperate with contact tracing.