In addition to the presence of the B.1.1.7 or 'UK' variant, New Jersey has detected COVID variants originating in Brazil, South Africa, and New York state. Officials urge caution and adherence to pandemic protocols.
By Matt Skoufalos | March 3, 2021
Another 2,957 New Jersey residents have tested positive for novel coronavirus (COVID-19), bringing the statewide total to 710,046 cases confirmed via polymerase chain reaction (PCR) testing, Governor Phil Murphy reported Wednesday.
New Jersey is also reporting 900 new COVID-probable cases based on antigen tests, bringing the statewide total to 89,430 positive antigen tests.
Antigen tests have a faster turnaround time than PCR tests—sometime within 15 to 30 minutes—but are less reliable at detecting active infection of the virus and more capable of reporting false positives.
Sadly, 63 more residents have perished from complications related to the virus, bringing the statewide, confirmed death toll to 21,052 lives lost during the pandemic.
In addition to those lab-confirmed fatalities, the state has acknowledged another 2,397 probable COVID-19-related deaths—66 more than previously reported.
Since March 2020, 725 of every 100,000 New Jersey residents have been hospitalized with COVID-19, and 238 of every 100,000 have died from COVID-19-related complications.
More than 10.8 million polymerase chain reaction (PCR) tests for COVID-19 have been performed statewide, with an 8.07-percent positivity rate per 100,000 residents.
March 3, 2021 marked the one-year anniversary of the COVID-19 pandemic reaching New Jersey, and the 170th gubernatorial pandemic briefing.
Rate of transmission (Rt) at 0.99, spot positivity lowest in South Jersey
The statewide average of COVID-19 spot positivity testing based on PCR test results stood at 10.68 percent February 27; in South Jersey, it was lowest, at 8.94 percent.
Rt, the variable that describes the seven-day, rolling-average, statewide rate of transmission of new COVID-19 cases, hit 0.99.
An Rt figure greater than 1.0 means that each new COVID-19 patient is infecting more than one other person, on average, and the spread of the virus is increasing.
Since its mid-April COVID-19 spike, the highest reported RT in New Jersey was 1.48, recorded August 1. The lowest was 0.62, recorded June 9.
Hospitalizations continue to trend downward
Throughout New Jersey, 1,921 people currently are hospitalized with a suspected or confirmed case of COVID-19, Murphy said.
Among those hospitalized patients, 403 are in intensive or critical care, and 243 of the ICU and critical-care patients (60 percent) are on ventilators.
In New Jersey's 71 critical care hospitals, 266 patients were hospitalized with COVID-19 yesterday, while 257 others were discharged.
Across the state, long-term care (LTC) centers have reported 1,270 cumulative outbreaks of COVID-19, and 318 are dealing with an active outbreak. LTCs account for 53,340 infected patients and staff in New Jersey, or 7.6 percent of total cases.
That includes 32,272 residents and 21,068 staffers sickened by the virus, as well as 7,919 lab-confirmed resident and staff deaths (37 percent of the statewide confirmed total), with facilities self-reporting 143 staff deaths.
Of 656 veterans residing in three state-run homes, 439 residents have tested positive for COVID-19, and 155 have died from complications related to the virus.
Four veterans presently are hospitalized with COVID-19, and 296 have recovered from the virus.
MISC cases and schools
At state-run psychiatric facilities, 333 of 1,151 patients and 935 staff members have tested positive for COVID-19. Fourteen patients and eight staffers have died from complications related to the virus.
To date, 105 New Jersey children aged 1 to 18 have been diagnosed with pediatric multisystem inflammatory syndrome (MISC), according to New Jersey Health Commissioner Judy Persichilli—one more than previously reported.
All those pediatric patients have tested positive for an active COVID-19 infection or the presence of COVID-19 antibodies, indicating exposure to the virus. No deaths have been associated with this syndrome in New Jersey, although several children have been hospitalized during their treatment, and three currently are.
Since August 1, 152 COVID-19 outbreaks encompassing 737 individual cases have been traced to schools in 19 New Jersey counties. In Camden County, 14 outbreaks have been linked to 70 cases, second-most in the state.
Vaccination update
Across the state, 2.19 million inoculations have been administered to date: 1.448 million first doses, and 740,492 second doses.
In Camden County, 128,241 doses have been administered; seventh-most in the state.
The first vaccines in the state were administered December 15; by February 8—55 days later—New Jersey had immunized its millionth resident.
Twenty days thereafter, that count hit 2 million.
Federal approval of the Johnson and Johnson one-shot COVID-19 vaccine over the weekend means the state can expect to receive 73,600 doses of that immunization within the coming few weeks.
Despite post-holiday downturn, officials warn of COVID variant spread
Although pandemic conditions in New Jersey are down from their secondary, holiday-season peak, officials continue to warn of the threats posed by variants of the virus and regional spikes.
Across the state, positive PCR tests are down 37 percent from the holiday surge, and weekly LTC resident cases and deaths are down 96 and 95 percent, respectively.
Yet Persichilli reported that COVID-19 case rates have increased in Northwestern, Northeastern, and Central New Jersey, and she urged residents to maintain pandemic protocols—washing hands, social distancing, wearing masks, and staying home when feeling ill.
"This virus is still with us," the commissioner said, and its multiple variants circulating across the country include mutations that may increase its transmissibility, resistance to treatments, severity of illness, or reinfection rates.
The U.S. Centers for Disease Control is concerned with three of these, the B.1.1.7, or "UK" variant, the B.1.351, or "South African" variant, and the P.1 "Brazilian" variant.
The B.1.1.7 is the most common in the United States, with 2,506 cases identified; it is present in 16 New Jersey counties, Persichilli said.
The P.1 variant is relatively uncommon in the United States, but of the 10 reported domestic cases, two have been identified in Hudson County, and are linked to international travel, the commissioner said.
Another strain, B.1.526, has been reported as originating in New York, and 34 of those variant cases have been identified in New Jersey. "Whether it is more contagious, or has other more concerning features is unknown," Persichilli said.
Community vaccination outreach efforts
New Jersey continues to push to deliver vaccines to members of its vulnerable populations, including the homebound elderly, ethnic minority groups, and people with disabilities.
Persichilli said that residents 75 and older "will go first in the queue" within the New Jersey Vaccine Scheduling System.
The commissioner said that although 30 percent of the residents in that age group have been vaccinated, half of those 75 and older who have been infected with the virus are dying from related complications.
Young Hispanic men and Black men and women also are dying at a rate greater than that of their white counterparts, Persichilli said, which makes outreach from the federally backed community vaccination sites instrumental in connecting with those populations.
Finally, Persichilli said that a community corps or public health specialists is training this week to go door-to-door in support of residents with disabilities who might need transportation or to have the vaccines brought to them. For these populations, the state plans to use its allocations of the one-shot Johnson and Johnson formulation because it is more shelf-stable than the Pfizer or Moderna vaccines, which require cold-chain or ultra-cold-chain storage.
"We will have accommodations because we will vaccinate 70 percent of the adult, eligible population in six months," Persichilli said. "We will find them."
Murphy said that additional doses of the vaccine should be available more broadly within a month.
"The supply-demand imbalance… will be greatest in the month of March," he said. "Assuming the feds are going to deliver what they say they'll deliver, we're going to see a quantum shift in this."
"Plus or minus Easter, this is going to go up in a meaningful way," he said.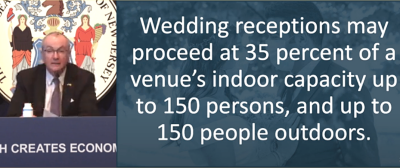 Wedding receptions, sleepaway camps, digital divide, utility shutoffs
The governor also announced a handful of anticipated pandemic policy changes brought about by the general improvement of conditions throughout the state.
Beginning March 4, wedding receptions may be held at the lesser of 35 percent of venue capacity, or 150 people in total. For indoor ceremonies, diners must remain seated while eating or drinking, and masked at all other times.
For parents beginning to register their children in summer programs, sleepaway camps also will resume regular operations this summer, Murphy said.
"For things like this you need a long runway, and that's why we're making these decisions and announcements today, but we still have a long way to go," he said.
Of the 231,000 students who had once been separated from the tools necessary for remote and online learning in New Jersey's digital divide, only 39 remain, Murphy noted today.
And finally, the governor confirmed that the statewide moratorium on utility shutoffs will be extended to June 30, 2021; it had been set to expire March 15.