Nearly 200,000 more New Jerseyans are expected to get their COVID-19 immunizations this week, with more than 176,000 others scheduled to be fully vaccinated.
By Matt Skoufalos | March 8, 2021
Another 2,201 New Jersey residents have tested positive for novel coronavirus (COVID-19), bringing the statewide total to 722,997 cases confirmed via polymerase chain reaction (PCR) testing, Governor Phil Murphy reported Monday.
New Jersey is also reporting 421 new COVID-probable cases based on antigen tests, bringing the statewide total to 91,919 positive antigen tests.
Antigen tests have a faster turnaround time than PCR tests—sometime within 15 to 30 minutes—but are less reliable at detecting active infection of the virus and more capable of reporting false positives.
Sadly, 20 more residents have perished from complications related to the virus, bringing the statewide, confirmed death toll to 21,193 lives lost during the pandemic.
In addition to those lab-confirmed fatalities, the state has acknowledged another 2,331 probable COVID-19-related deaths—66 fewer than previously reported.
Since March 2020, 732 of every 100,000 New Jersey residents have been hospitalized with COVID-19, and 241 of every 100,000 have died from COVID-19-related complications.
More than 10.9 million polymerase chain reaction (PCR) tests for COVID-19 have been performed statewide, with an 8.20-percent positivity rate per 100,000 residents.
Rate of transmission (Rt) at 1.06, spot positivity lowest in South Jersey
The statewide average of COVID-19 spot positivity testing based on PCR test results stood at 7.13 percent March 4; in South Jersey, it was lowest, at 5.90 percent.
Rt, the variable that describes the seven-day, rolling-average, statewide rate of transmission of new COVID-19 cases, hit 1.06 on March 6.
An Rt figure greater than 1.0 means that each new COVID-19 patient is infecting more than one other person, on average, and the spread of the virus is increasing.
Since its mid-April-2020 COVID-19 spike, the highest reported RT in New Jersey was 1.48, recorded August 1, 2020. The lowest was 0.62, recorded June 9, 2020.
Hospitalizations continue to trend downward
Throughout New Jersey, 1,786 people currently are hospitalized with a suspected (117) or confirmed (1,669) case of COVID-19, Murphy said.
Among those hospitalized patients, 393 are in intensive or critical care, and 237 of the ICU and critical-care patients (60 percent) are on ventilators.
In New Jersey's 71 critical care hospitals, 266 patients were hospitalized with COVID-19 yesterday, while 257 others were discharged.
Across the state, long-term care (LTC) centers have reported 1,275 cumulative outbreaks of COVID-19, and 290 are dealing with an active outbreak. LTCs account for 53,507 infected patients and staff in New Jersey, or 7.6 percent of total cases.
That includes 32,342 residents and 21,165 staffers sickened by the virus, as well as 7,933 lab-confirmed resident and staff deaths (37 percent of the statewide confirmed total), with facilities self-reporting 144 staff deaths.
Of 656 veterans residing in three state-run homes, 439 residents have tested positive for COVID-19, and 219 have died from complications related to the virus.
Eight veterans presently are hospitalized with COVID-19, and 422 have recovered from the virus.
MISC cases and schools
At state-run psychiatric facilities, 332 of 1,150 patients and 958 staff members have tested positive for COVID-19. Fourteen patients and eight staffers have died from complications related to the virus.
To date, 106 New Jersey children aged 1 to 18 have been diagnosed with pediatric multisystem inflammatory syndrome (MISC), according to New Jersey Health Commissioner Judy Persichilli.
All those pediatric patients have tested positive for an active COVID-19 infection or the presence of COVID-19 antibodies, indicating exposure to the virus. No deaths have been associated with this syndrome in New Jersey, although several children have been hospitalized during their treatment.
Since August 1, 160 COVID-19 outbreaks encompassing 765 individual cases have been traced to schools in 19 New Jersey counties. In Camden County, 14 outbreaks have been linked to 70 cases, third-most in the state.
Vaccination update
Across the state, 2.51 million inoculations have been administered to date: 1.657 million first doses, and 854,001 second doses. In Camden County, 149,645 doses have been administered; seventh-most in the state.
The first vaccines in the state were administered December 15; by February 8—55 days later—New Jersey had immunized its millionth resident. Twenty days thereafter, that count hit 2 million.
This week, the state will receive 374,870 vaccine doses; 198,550 first doses and 176,320 second doses of the Pfizer and Moderna formulations, Persichilli said. Some 2 million New Jerseyans are queued up in the state's registration system.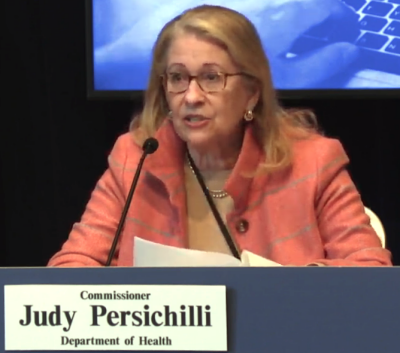 136 cases of 'Variants of Concern' in New Jersey
As mutated offshoots of COVID-19 continue to circulate throughout New Jersey, Persichilli described them collectively Monday as "variants of concern," in the parlance of healthcare officials.
The U.S. Centers for Disease Control has highlighted three of the most significant of these: the B.1.1.7, or "UK" variant, the B.1.351, or "South African" variant, and the P.1 "Brazilian" variant.
The B.1.1.7 is the most common in the United States, with 2,506 cases identified; it is present in at least 16 New Jersey counties, according to Persichilli.
The P.1 variant is relatively uncommon in the United States, but of the 10 reported domestic cases, two have been identified in Hudson County, and are linked to international travel, the commissioner has said.
Another strain, B.1.526, has been reported as originating in New York, and 34 of those variant cases have been identified in New Jersey.
"Whether it is more contagious, or has other more concerning features is unknown," Persichilli said last week.