The Collingswood education-based retailer spent nine months and $750,000 dollars updating a 111-year-old building that will support its in-house non-profit.
By Matt Skoufalos
It took about three-quarters of a year and three-quarters-of-a-million dollars to get there, but earlier this month, Collingswood educational retailer ExtraordinaryED completed the one-block journey into its newly revamped Haddon Avenue storefront.
"It's been nine months of renovations," said CEO Rusty McCarty. "It's kind of like childbirth."
In the past three-and-a-half years, the 1,500-square-foot space that is part-classroom, part-shop has become just one facet of McCarty's national nonprofit, CustomED.
While ExtraordinaryED provides retail and classroom toys, games, and experiences that allow customers to "learn, play, and grow," CustomED creates education for cause-based organizations. The $2 million nonprofit has a presence in all 50 states with programs like "Fuel Up to Play 60," an anti-childhood-obesity partnership with the National Dairy Council and the National Football League.
Revenues from the ExtraordinaryED shop and the three apartment units on the second floor of the building only account for some 5 percent of that total business, but it's enough cover the operating overhead for the nonprofit and its staff of 12.
"All our utilities, our occupancy, and even our bookkeeping are covered by that," McCarty said. "That enables us to have a bigger reach and spend more time on products without overburdening the cost [of our programs]."
The move from the Collingswood mall to the new location at 808 Haddon Avenue allowed ExtraordinaryED "to stay committed" to its retail business while retaining its classroom space "as a service to the community," McCarty said, including a $25-per-hour reduced rate for groups with an educational connection.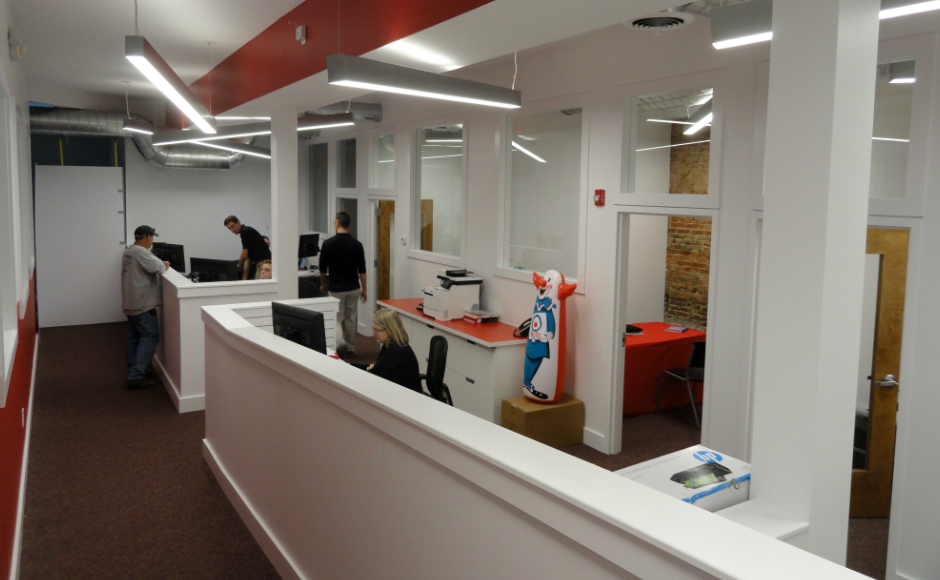 "A lot of people just aren't taking time to stop working and play, just enjoy being together, having fun, and seeing what happens," he said.
"By moving into that new space, we prioritized and rebuilt our classroom so that we could do those community classes and events—game nights, chess tournaments, cooking competitions—that allow people to share ideas and bring people together."
The first floor of the 111-year-old building had been vacant for a decade prior, McCarty said; it and much of the second floor were rebuilt from the ground up. Fully a third of the building was demolished and rebuilt entirely to remove nonstandard foundational elements and to redo its mechanical infrastructure.
The front of the space, which covers some 1,200 square-feet of retail, leads into another 7,000 square-feet of CustomED offices. In the rear of the building, CustomED is refurbishing an open-air design space with skylights, a floor-to-ceiling digital whiteboard wall, warehousing, and a conference area.
In the move, ExtraordinaryED quintupled its inventory from about 90 products to 450. Each is curated to facilitate the learn-play-grow motto, and the selection frequently includes items that are only available in limited quantities.
Rather than trying to battle with retailers like Amazon or Wal-Mart on pricing, McCarty said he would rather offer shoppers a hard-to-find gift, and support them with an opportunity to exchange their purchase if it doesn't work out.
That approach has worked so far, with some 75 percent of customers returning for a second or third visit, he said.
"It doesn't hurt us to make something available as a demo," McCarty said. "If we recommend something to you that we say will hit the mark and it doesn't, bring it back.
"We have a lot more to offer [than just pricing], and that continues to be a really important part of that business," he said.
After six years in the Collingswood business district, McCarty said the support of the community has helped him weather the ups and downs of the local retail economy.
The welcome that he's received played a large part in the decision to reinvest in a new building in the borough despite the existence of other, less expensive alternatives nearby.
"We had some other spaces that we could have gone to in Haddonfield and Haddon Township," McCarty said. "It didn't make any sense to us.
"Everybody in Collingswood is welcoming," he said. "It's a smart town. What we do seems to make sense here."
ExtraordinaryED is located at 808 Haddon Avenue, Collingswood (856-833-9372).
Get more local news that matters. Check out NJ Pen on Facebook and Twitter, [tinypass_offer text="or click here to become a supporter."]