At Cafe II, Victor Osorio's salmon sandwich substitutes fresh fish for the traditional chopped steak, offering a new twist on a regional staple.
By Matt Skoufalos | January 24, 2019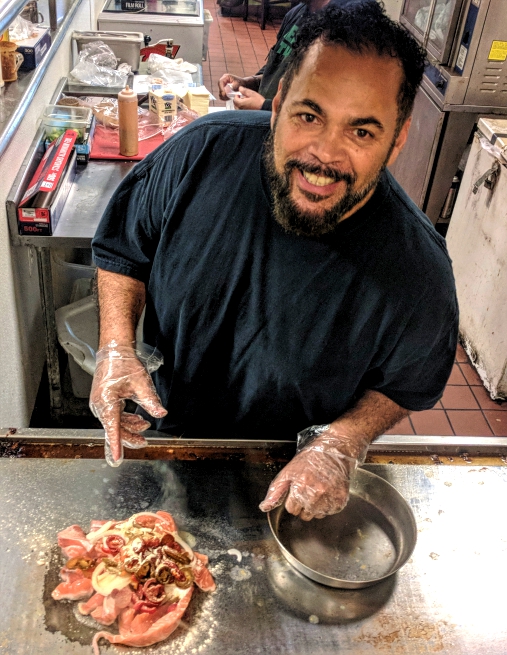 The title of Camden's most famous cheesesteak will always belong to Donkey's Place.
An honor bestowed by no less than the late Anthony Bordain himself, Donkey's legacy was further cemented in an episode of the Philly-centric throwback sitcom The Goldbergs.
But lately, a little grill on the Collingswood border is making some noise for its own twist on the regional staple sandwich—one that subs in surf for the turf.
Victor Osorio said he cooked his first seafood cheesesteaks (seasteaks?) decades ago for the crew at Kelly's Fisherman Inn in Hainesport.
"We used to filet salmon," Osorio said. "I used to prepare the scraps for the employees."
He reached back for the recipe seven years ago when opening Café II on the White Horse Pike in Camden.
About three years ago, "it started taking off," Osorio said.
"My background was always seafood," he said. "I just try to put a different spin on it."
The seafood steak starts with a 10-ounce salmon filet, to which Osorio adds broccoli, onions, sweet and hot peppers, and a house special sauce. He tops it with American or white cheddar cheese (the deluxe model comes with shrimp), and heaps the works onto a steak roll.
Don't like salmon? Have yours with shrimp, scallops, or flounder instead. Every sandwich is cooked to order with seafood sourced from Samuels & Son of Philadelphia.
For traditionalists, Café II also offers cheesesteaks, chicken cheesesteaks, and a robust soul food menu. Guests can polish off their meals with a beer from the Q Ultra Lounge next door, which connects to the sandwich shop through an interior door.
Friday and Saturday are the busiest days, but business really picked up for Café II when local YouTuber Jeff Lek shot an episode of his traveling foodie series in the shop a couple weeks ago.
Osorio was unprepared for the rush that followed. He said he sold 40 seafood steaks the day after the video dropped.
With the Ferry Avenue PATCO lot up the road, guests are as likely to visit from Philadelphia or Delaware as from Woodlynne or Camden; Osorio says most aren't from the immediate area. A couple in line Thursday had traveled from Williamstown to sample the sandwiches.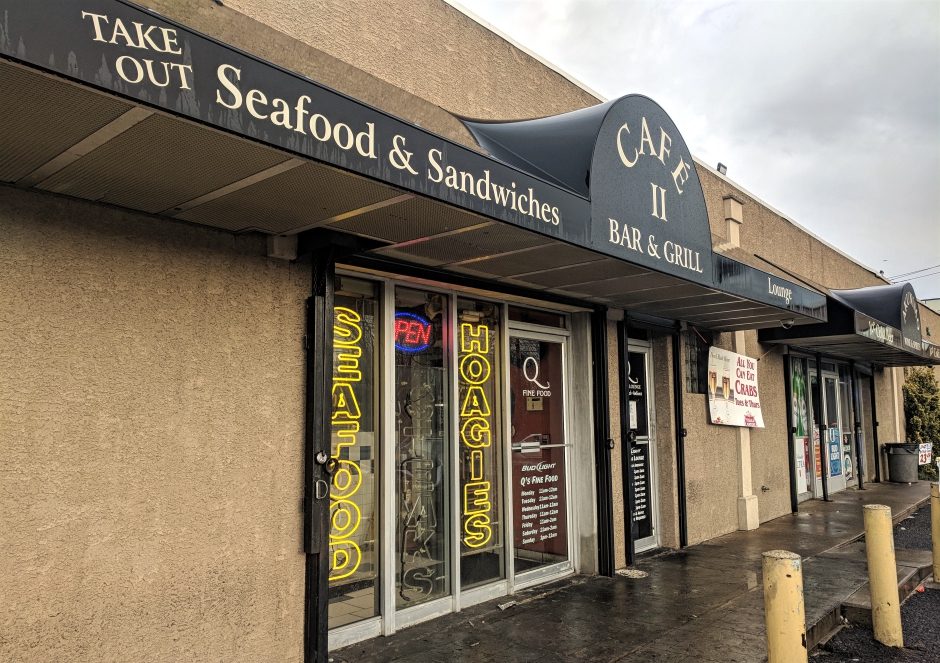 After 40 years in the industry, Osorio's resume is a varied one that includes tenures at a number of fine dining establishments.
At 60, though, he's "retired from his chef days," and sums up his fish-slinging with a mariner's wisdom.
"I was what I was back then; I am what I am now," Osorio said.
Café II is located at 1848 White Horse Pike in Camden.
The shop is open from 3 p.m. to midnight Sunday through Thursday, and until 2 a.m. Friday and Saturday.