The $32-million project will install eight elevators at six stations between New Jersey and Philadelphia. Collingswood's is the first to have been completed.
By Matt Skoufalos | April 16, 2019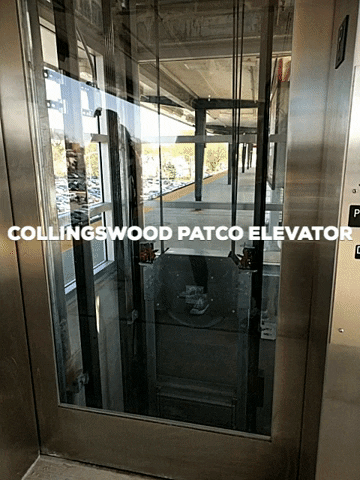 On Tuesday, Collingswood cut the ribbon on one of the biggest infrastructure upgrades the PATCO Speedline Station has seen in its 50-year history: an elevator.
For almost as long as the station has been operational, accessibility to riders in wheelchairs has been a topic of conversation, said Collingswood Mayor Jim Maley.
So, in marking the occasion, Maley recollected one resident in particular who would've been happiest to see the project completed: the late Jerome Kiniry.
Nicknamed "Wheelchair Jerry," Kiniry was a constant presence in the town, notable for riding its roads with dual flashlights on his chair at night, Maley remembered.
Kiniry didn't live to see the borough's Speedline station upgraded to accommodate his disability, but his memory was fresh at hand when the mayor recalled the long overdue need for an elevator at the public transit stop.
"To me, this is the Jerry Kiniry elevator," Maley said.
The upgrade represents a form of "customer enhancement," said DRPA Director of Government Relations Bill Shanahan, a Collingswood native.
In addition to the elevator, the station was retrofitted with ramps by which to access it.
Haddonfielder Rob Fini was one of the first to take it to the platform with his bicycle at Tuesday's ribbon-cutting—which, as if further proof of its need were required, was interrupted by a woman with a baby stroller taking it up to the platform.
The Collingswood station is the first to have received the elevator fit-out; last week, steel framed out the installation project at the Haddonfield PATCO stop, and concrete will be poured there this week.
Work is simultaneously being undertaken at the Ashland station, as well.
In all, the Delaware River Port Authority, which operates the PATCO Speedline, will spend $32 million to add eight elevators to six of its stations, said DRPA Senior Engineer Elisabeth Klawunn. After Haddonfield's and Ashland's are completed, the Westmont, Camden City Hall, and 12th and 13th and Locust stops are next.
In addition, Maley said DRPA will be performing track maintenance in the borough soon to address the noise it generates. Wear and tear on the infrastructure had resulted in louder-sounding trains; the agency will grind down the rails to quiet them.