For children with sensory issues, meeting Santa Claus can be an intimidating experience. Some Collingswood residents are working to offer an alternative.
By Matt Skoufalos
Like so many other moments in the Jean Shepherd classic, A Christmas Story, the scene in which young Ralphie visits the department store Santa Claus perfectly captures the pressure, spectacle, and intensity of such an encounter.
There are the long, uncomfortable lines through which a throng of children are pressed in a race against the clock. There's an overworked Santa who remarks on the tapioca pudding smells of the kids hoisted onto his lap, and an equally burnt-out pair of elves who have clearly reached their breaking point. When many of the children finally get to see Santa, they simply short-circuit, screaming, sobbing, or blanking on what they'd wanted to ask for.
For children with sensory issues, the overwhelming feelings depicted in this scene may not be too far from their experiences even under the best of conditions. However large the myth of Santa Claus looms in their lives, having a real-world encounter with him can be something else altogether.
So when Collingswood resident Lori Kerfren started reading about malls across the country that offered a sensory-friendly Santa experience for children, she wondered whether her own community would support something similar.
In short order, Work in Harmony Café co-owner Jennifer Baker volunteered to host the event in her Haddon Avenue coworking space, and neighbor Kevin Monko offered to play Santa. For a few hours on Saturday, the group will work to create an alternative, low-key holiday encounter for those who need it most.
"We have a lot of kids in town who have a lot of challenges around social situations," Kerfren said. "Those kids should be able to see Santa. Having done Collingswood events, I knew it could be pulled together with a few people."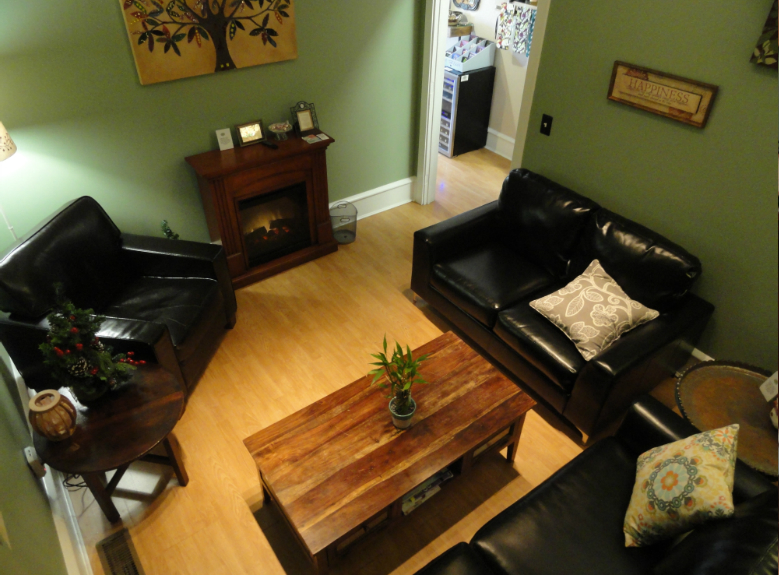 Baker said the idea appealed to her immediately because the Santa Claus experience can be challenging even for children without sensory issues.
"I think the mall can be overwhelming for parents and children," she said. "My son doesn't have any sensory issues, but it's overwhelming for me, and I can imagine [how it feels]."
Baker hopes her storefront will provide a refuge for parents of children with sensory issues, too—those who might be overwhelmed by their children's public reactions at a typical Santa, or who might otherwise feel pressured to make a hasty exit. The Work in Harmony lounge is a quiet space with muted colors, and offers a comfortable, controlled atmosphere, from dim lights to its gas fireplace.
"I nannied for one or two kids who were very low on the autism spectrum, but [who]had social issues," Baker said. "I know how hard it is when parents have to try to help their children socialize in a semi-normal environment."
Monko said he joined in both because he's "very aware of kids with sensory issues" and game for the odd favor.
"I like kids; kids like me," Monko said. "Sometimes they need a situation that's very conducive to the way they are. And I feel like I can put kids at ease. If I can do it, then hell, why not?"
It won't be the first time Monko has been an on-demand Santa; he said he once donned the big red suit for a friend whose circumstances didn't allow for a mall visit.
Neither does he consider himself unique in wanting to help create some seasonally appropriate wonder for children. After all, Santa does embody the spirit of generosity.
"It's hard for me to ever say no when it involves doing something for kids, but honestly, I think most people are like that," Monko said.
"The more outlandish a request you make of somebody, the more likely they'll do it. I think we don't turn to our neighbors to ask for things because they think it's an inconvenience, but it's like, 'Hey, being useful made my day.'"
Collingswood Middle School teacher Regina Smith, who last year organized a sensory-friendly performance of Shrek the Musical, and who routinely incorporates special-needs students into the casts and crews of school plays, said acknowledging different approaches to "an entity like Santa" is a useful strategy for all parents.
Every child should get to feel "the joy and anticipation" of meeting Santa, Smith said, and creating the opportunity for kids to do so at a slower pace gives them a better chance to have a successful experience, Smith said.
"For people who need accommodations, the experience [of visiting Santa]can be overwhelming," Smith said. "With any new experience, it's important to prepare them for anything that might or could happen."
For parents who aren't able to make a sensory-friendly Santa appointment, Smith recommends a few strategies. The first is to prepare the child for the visit by creating a social story, or personalized walk-through of the interaction, to discuss its components and identify the people and feelings involved.
"When students take field trips, we write stories with their names in them." Smith said. "[We include] all the things they might hear or see, and put in emotions. You review the whole experience before it happens and set up for more success."
Smith also suggests that families support their children by setting up their Santa visits for off-peak hours to avoid feeling rushed. Parents and caregivers can help keep things moving smoothly by doing their best to stay calm during the interaction.
Of course, she pointed out, "even for neurotypical people, they never forget those experiences."
For Kerfren, the main objective of the event is to create an atmosphere of inclusivity that will allow more children to enjoy Santa as a shared holiday experience. She knows that children with sensory issues may not want to sit on Santa's lap or pose for a photograph, and may not even leave smiling. But she will consider the event a success if they leave "with whatever version of happy looks like" for them.
"I hope that if kids just want to talk to Santa and interact, they'll have a good experience and be more comfortable," she said.
The Collingswood Sensory Smart Santa will receive guests from 2 to 5 p.m. December 12. To schedule a visit, click here for the Facebook event page.
Get more local news that matters. Check out NJ Pen on Facebook and Twitter, [tinypass_offer text="or click here to become a supporter."]