When will Santa make the rounds on your block? We've got details on the annual tradition from local fire companies.
By Matt Skoufalos | December 9, 2016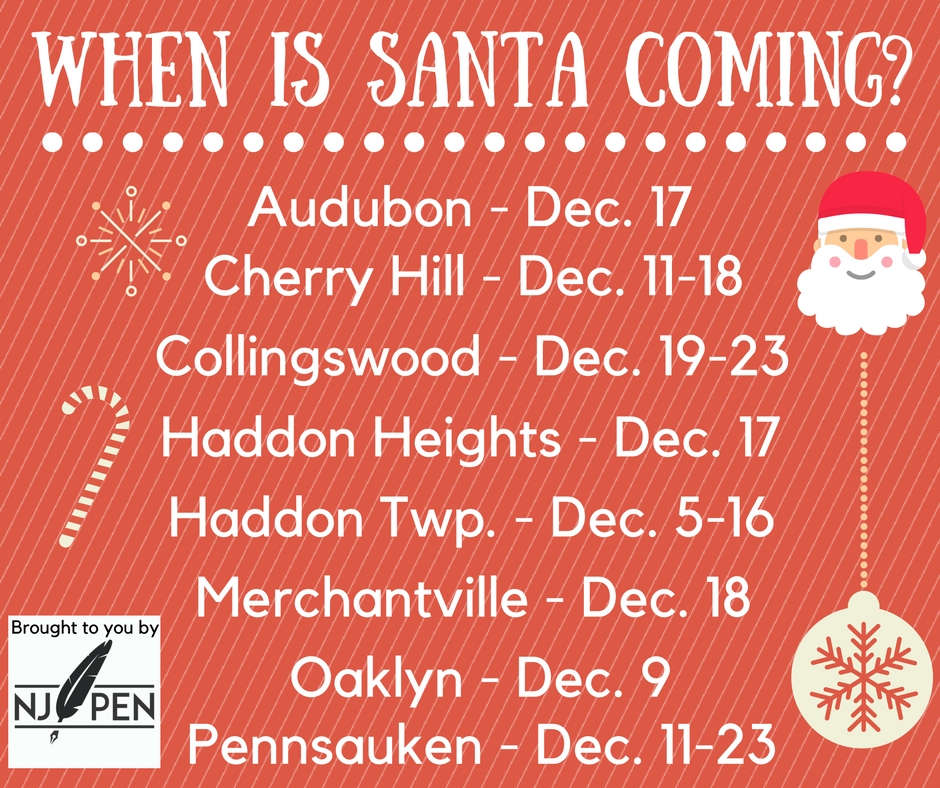 December can be a confusing time of the year to hear fire sirens.
In many neighborhoods, it's not necessarily a cause for alarm, but the sound of good-willed volunteers bringing a bit of holiday cheer to local residents (and usually some sweets for the kids).
A charming tradition that has been historically upheld by local fire departments for years, the Santa fire truck visits run on a different schedule for neighbors in different towns.
If you want to know when the jolly old elves will be coming to your block, here's the schedule for this year.
NOTE: All dates and times are approximate and weather-permitting.
Audubon
Saturday, December 17
10 a.m. – 12 noon
On the Saturday before Christmas, the Audubon Fire Department splits up the town into four routes that are completed simultaneously. Children who greet Santa are likely to enjoy a candy cane from one of his helpful elves.
Cherry Hill
Sunday, December 11 through Sunday, December 18
times vary
Cherry Hill Fire Department offers an interactive map for residents to see when Santa will be arriving in their neighborhoods as well as a static Santa Neighborhood schedule to track his visits. Start times (below) vary.
Dec. 11 – 9 a.m.
Dec. 12 – 4 p.m.
Dec. 13 – 4 p.m.
Dec. 14 – 4 p.m.
Dec. 15 – 4 p.m.
Dec. 16 – 4 p.m.
Dec. 17 – 10 a.m.
Dec. 18 – 1 p.m.
Collingswood
Monday, December 19 through Friday, December 23
5:30 p.m. to 8 p.m.
Collingswood Fire Department follows the borough leaf and brush collection schedule (reprinted below).
Monday
Browning Road to Champion Avenue
Collings Avenue to PATCO Hi-Speedline
Newton Avenue to Crescent Blvd.
Woodlynne Avenue
300 & 400 Block of Park Avenue
Tuesday
Bellevue Terrace up to and including Garfield Avenue
PATCO Hi-Speedline to Haddon Twp. border
Wednesday
Penn Avenue up to and including Lincoln Avenue

PATCO Hi-Speedline to South Park Drive
Thursday
Crestmont Terrace to Lincoln Avenue
High Speed-Line to South Park Drive
King Avenue to Lincoln Avenue
Friday
South Atlantic Avenue to South Newton Lake Drive
Lakeview Drive to Haddon Twp. border
Bettlewood Avenue to Browning Road
Collings Avenue to North Newton Lake Drive
Haddon Heights
Saturday, December 17
5 p.m. to 9 p.m.
For more information, contact Haddon Heights Fire Department.
Haddon Township
Monday, December 5 through Friday, December 16
6 p.m. to 8:30 p.m.; times vary

Westmont Fire Company No. 1 also invites Christmas tree shoppers to visit the station seven days a week until 9 p.m. to pick out a live tree. Proceeds support the department.
Monday, Dec. 5—Bettlewood
Lees Lane to White Horse Pike
Cuthbert Road to E. Haddon Ave.
Wednesday, Dec. 7—Bluebird & Collingswood Manor
Cuthbert Road to Collingswood border
Cooper River to Newton Lake
Thursday, Dec. 8—Emerald Hills (Pt. 1)
Cuthbert Road to Cooper Street
Lindisfarne Ave. to S. Park Drive, Keg & Kitchen
Sunday, Dec. 11—Emerald Hills & Westmont Heights
Cooper Street to Maple Ave.
Haddon Ave to Cooper River
Coles Landing Rd.
P.J.Whelihan's
Tuesday, Dec. 13— Park Ave. & 20th Century
Cuthbert Road to Chestnut Ave.
Speedline to Stokes Ave.

W. Park Blvd. to Valley Drive

Buckner Ave. to Crystal Lake Ave
Wednesday, Dec. 14—Westmont Ave. & Haddon Hills
Chestnut Ave. to Evergreen Ave.
Haddon Ave. to W. Park Blvd.

Haddon Hills complex
Friday, Dec. 16—Haddonleigh Section
Graisbury Ave. to Hopkins Road to Haddonfield border
Merchantville
Sunday, December 18
12 p.m. to 6 p.m.
The Niagara Fire Company traverses Merchantville in three units that operate simulaneously.
Oaklyn
Friday, December 9
5:30 p.m. until completed
The Oaklyn Fire Department is changing things up this year, escorting Santa around town on a Friday night instead of a weekend morning. That's the only change, however. As per usual, one Santa detail will travel along the path of the railroad tracks, from the intersection of the Black Horse Pike and Kendall Boulevard to Congress Avenue. A second unit will follow along the other side of the tracks, beginning in the area of Reading and Manheim Avenues, proceeding along the railroad tracks to Capitol Ave., and ending in the area of Bettlewood Avenue.
Pennsauken
Sunday, December 11 through Friday, December 23
times vary

Sunday, Dec. 11 (daytime)
Delaware Gardens
East Pennsauken
Hillcrest
Iron Rock
Jordantown
North Merchantville
Tuesday, Dec. 13 (evening)
Saturday, Dec. 19
Collins Tract
Pennwood
Pennsauken Estates
Saturday, Dec. 18 (daytime)
Collins Tract
Pennwood
Pennsauken Estates
Meadowbrook
Chadwyck I-II-III
Pennbrook
Bloomfield
Homestead
Fairview Estates
Friday, Dec. 23
Delair
Morrisville
Bridgeview
Call the Pennsauken Fire Department at (856) 665-0774 for more information.
PATCO Presents Santa's Silver Sleigh
Saturday, December 10
times vary
On Saturday, December 10, PATCO's Silver Sleigh will make three trips from its Lindenwold station, picking up passengers at all stops for westbound rides with Santa, elves, and holiday music.
Continue into Philadelphia and visit the Christmas Village at City Hall, or stop at your favorite South Jersey downtown and do some local shopping.
Trains run every 20 minutes throughout the day, but Santa's Silver Sleigh departs at the following times/locations:
Lindenwold – 9 a.m., 10:30 a.m. or 12 p.m.
Ashland – 9:02 a.m., 10:32 a.m. or 12:02 p.m.
Woodcrest – 9:03 a.m., 10:33 a.m. or 12:03 p.m.
Haddonfield – 9:06 a.m., 10:36 a.m. or 12:06 p.m.
Westmont – 9:08 a.m., 10:38 a.m. or 12:08 p.m.
Collingswood – 9:10 a.m., 10:40 a.m. or 12:10 p.m.
Ferry Avenue – 9:12 a.m., 11:42 a.m. or 12:12 p.m.
Broadway – 9:15 a.m., 10:45 a.m. or 12:15 p.m.
City Hall – 9:16 a.m., 10:46 a.m. or 12:16 p.m.
Regular fares apply for all customers five and older; children four and younger ride free. For more information, call 856-772-6968 or 856-772-6905.