Downtown Merchantville could look very different in a few years, as redevelopment plans for a new town center initiative round into form.
By Matt Skoufalos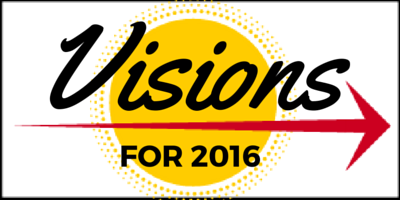 "Visions for 2016" is a series of chats with local leaders about the priorities for their communities in the upcoming year.
In this installment, Merchantville Mayor Ted Brennan discusses plans to help reinvent the borough downtown as a mixed-use arts district with mass transit connections.
Merchantville Mayor Ted Brennan has big plans for his community in 2016, and getting them off the ground will require generating no small amount of inertia. Setting the tone for that agenda involves keeping residents "consistently energized," he said.
"One of the things that I found that was most difficult for me as a new mayor in 2015 is maintaining that level of energy in the community throughout the new year," Brennan said. "We need to make sure that we are doing our best to push things forward and not let things fall to the wayside."
The biggest objective for Brennan's administration in 2016 is to finalize a redevelopment plan for downtown Merchantville, specifically the large, untapped, triangular parcel delineated by the intersections of South Center Street and East Park and East Chestnut Avenues.
From the vacant PNC Bank to the Station Cafe to the former EMS building that Chris Mattern is converting into a microbrewery, Brennan envisions a mixed-use commercial and residential development that would be anchored by a public gathering space and designed in keeping with the aesthetic tradition of the neighborhood.
"I want a redevelopment that will stand the test of time, not something that is a quick hit so that we can alleviate past issues," Brennan said. "I pay taxes in town too, so I fully understand it. But I think if we are going to redevelop that area, it should be a beautiful place that represents Merchantville."
Concepts for the space are flexible, but Brennan envisions "a mini-Piazza at Schmidt's," the popular Northern Liberties development in Philadelphia that surrounds a common courtyard with shops, restaurants, and apartments. The open public area hosts concert series, beer gardens, and other public events throughout the year, and draws significant foot traffic because it's known as a place for outdoor gatherings. Brennan believes that a similar recipe could work in Merchantville if built around an arts focus.
"One of the largest goals of this redevelopment is to create a public space that brings in people who will then come to our downtown businesses," the mayor said.
"You could hold performances, have benches and tables for outdoor dining [and create]a very flexible element…a community space where people can come and congregate and get things done.
"Merchantville has an opportunity to capture something that is not available in many places in South Jersey, which is the ability to have live entertainment, whether it be music, art, or other live performance opportunities," Brennan said. "If you combine that with a couple nice restaurants, it would lend itself to those things; a nice mix of retail, some professional services, and then restaurants and performance, art, and music."
A key component of that redevelopment initiative will involve the shuttered, borough-owned PNC bank building on Center Street, for which Brennan said the local government is seeking a redeveloper "to use that space and really reform it."
"It certainly is going to require capital investment to get the facilities up to code," he said. "The first goal is to determine how much that's going to cost, and if we can do it. If we can't, we'll engage our professionals to find capital to get it online."
Once the redevelopment concepts are finalized, Brennan said the government will publish its formal redevelopment plan, which has been developed in concept with planners at Ragan Design Group as well as community input, and will issue a request for proposals from private developers.
Transit Connectivity
Brennan knows, too, that any such development must connect the larger Merchantville downtown with parking. As such, the local government has been in negotiations with Verizon to use the rear lot of the Bell Telephone building, which connects with East Park Avenue, as a downtown municipal lot. By January, both sides had temporarily agreed to terms on a five-year agreement, with a final contract expected soon.
"I feel confident that we're going to be able to nail that down to create a public parking space and link to that redevelopment area, this common space, which links to the main street corridor," Brennan said.
In addition to vehicle connections, Brennan said the borough government will work to roll out a "pie-in-the-sky initiative" that would connect Merchantville to local transit hubs at PATCO and the NJ Transit station in Pennsauken via a jitney service.
For a town that exists because of the (now defunct) rail line that runs through its heart, Merchantville has been isolated from the public transportation options that help many communities thrive.
"Public transportation provides positive impact," Brennan said. "To me, it's an important initiative to take Merchantville to the next level as a town. While we are served by NJ Transit through Merchantville, you can't get to any major transportation hubs in one seat. You have to take at least two seats through the existing structure."
The proposed circuit would consist of a 15-minute loop for three or four hours in the morning and afternoon, and would enable locals "to live that suburban lifestyle that I think residents want to live," he said.
Business improvement district
Brennan views redevelopment efforts as fitting hand-in-glove with a greater effort to engage and support the existing Merchantville business community "and establishing a relationship to what they need to be successful."
In addition to soliciting input from small business owners about how to best do that, he said the borough will examine the question of creating a business improvement district (BID) to combat "the broken-window-type of stuff."
The BID would levy an additional tax on businesses within the district to raise money for its beautification and improvement. Ideally, those funds would be matched by the borough government, and would be available to BID members for façade improvements, store fit-outs, and cleanup services like sidewalk cleaning, snow shoveling, and garbage removal. It's part of an overlay of service to which Brennan believes the local government must re-commit on behalf of taxpayers.
"We only have a few full-time employees other than police," the mayor said. "We want to make sure we get the most out of them. We want to refocus on making sure that everything in town is taken care of, and it certainly starts with us, with the borough.
"The goal at the end of the day is I want to make sure residents feel good about town and the opportunity that they're paying taxes for," he said.
As a Tree City, USA town, Merchantville takes pride in its shade trees as vital to local character, Brennan said; at the same time, tree roots have created "a real issue recently with raised sidewalks," he said. The mayor hopes to leverage municipal borrowing power to help residents cover the cost of necessary sidewalk improvements instead of offloading that financial responsibility to them entirely.
"I envision a scenario where we go out under a capital note, and we borrow a certain amount of money to fix sidewalks, and we make a five-year assessment," Brennan said. "You do one-fifth of the cost a year, and assess it on the taxes. That would include the cost as well as the interest, but I think it's an effective way to do it."
Brennan said that the local government will also work to improve communication with borough residents. He hopes to streamline its public voice by finding a professional to oversee borough communication through social media and press releases.
"Right now it's kind of a smorgasbord of people," Brennan said. "At times it can be disconnected."
Helping to create a consistent message is another way in which the borough can consolidate its redevelopment gains, market the community to new residents, and reinvigorate its resident base of volunteers to help Brennan carry that community energy forward in 2016.
"We really want to focus on having people move to Merchantville because it is a wonderful place to live," he said. "It does have everything you're looking for. The community spirit, the people who want to be involved…those people deserve a great town, and that's what we're trying to be."
Get more local news that matters. Check out NJ Pen on Facebook and Twitter, [tinypass_offer text="or click here to become a supporter."]