Collingswood artist Lee Angerstein is hoping to grow a broader audience for his cartoon, 'Rad Robot,' but in the meantime, he'll settle for puns, sight gags, and finely tuned caricatures.
By Matt Skoufalos
From his perch atop the second floor of The Factory makerspace in Collingswood, Lee Angerstein is usually drawing, and probably cracking himself up.
Angerstein, 29, doesn't always need an audience to be entertained. If something strikes him, he's contented enjoying it alone; in fact, that's often the litmus test for his humor.
A skilled cartoonist, he delights in a perfectly (or approximately) constructed pun, picking up the line of a jaw jutted in smugness, or some properly placed flop sweat.
Stylistically, his forebears are cartoonists like Matt Groening and JG Quintel and comic illustrators like John Romita and Scott Campbell. His characters are often little more than gigantic, expressive faces that wouldn't seem out of place in an episode of Adventure Time, Rick and Morty, or the broader continuum of mashup culture.
"I've been drawing since I can remember, since I had the strength to hold a pencil," Angerstein said. "I was kind of sick as a kid, so there weren't too many things I could do. My mom gave me a pencil and a pad and paper and I used to draw stuff."
His mom gave him his first comic book, too, an issue of Amazing Spider-Man in which the hero fights a science fair gone wild. Angerstein remembers sitting on his front porch, thinking, "This is the coolest thing ever," and shortly thereafter, Spider-Man joined his rapidly expanding repertoire of dinosaurs and superheroes.
"I'd get those how-to-draw books and skip all the steps, look at the end, and copy it," he said. "I remember in fourth grade, I was drawing Buzz Lightyear, and one kid said, 'That's only good because you copied it. You couldn't draw something like that from your mind.
"It blew my mind because he was right."
The barb stung, but Angerstein kept pushing. He brushed up against the same challenge in college as he pursued an illustration degree: some professors wanted him to find his own style by aping theirs. Others encouraged him to innovate. Only one told him he should quit school and start his own brand. Eventually, he did.
Coming to terms with his identity as an artist came via a career in coffee. Angerstein caught on with Green Street Coffee Roasters in Philadelphia, and then with Revolution Coffee Roasters in Collingswood. The social engagement of being a barista increased his confidence as an entertainer, playing up a natural ability for making people laugh. After his artwork started to reflect that gift for imagination and humor, Angerstein got up enough nerve to start pitching his work to places like Frederator Studios and Nickelodeon. So far, the feedback has been positive.
"At one point I realized there's no limit to how weird or silly or stupid you can be," he said. "If that's what you want your art to be, just do it. I decided to create my own brand so everything can grow and spread its wings."
The emblem Angerstein chose to carry that brand is an enigmatic character called Rad Robot. Something like R2-D2 crossed with The Fonz, Rad Robot is the favorite son of DudeTown, the inclusive and strange community inhabited by Angerstein's colorful creations.
Characters like Hmm Guy, a lizard-like being immersed in eternal contemplation, or Squiven, an anxious-looking thing with a wheel instead of legs, do the emotional heavy lifting. ("I love weird names that sound uncomfortable to say," Angerstein said.) Rad Robot serves as a faceless foil for their reactions.
"He's the town's golden boy," Angerstein said. "Why? I don't know. Where'd he come from? I don't know. All of my characters make noises or talk or whatever, but he doesn't. He just embodies the coolness."
Rad Robot isn't the only focal point of Angerstein's work, which includes cartoons, comics, apparel, and other swag. He stocks an Etsy store, publishes storylines on Facebook, and trots out single-panel gags on his instagram feed (you've probably seen his chalk art commemorating Drake's "Hotline Bling").
If there isn't necessarily continuity of thought, there's certainly continuity of style, and a charm that amuses.
"I want to bring laughter, to bring inclusion, to bring happiness," Angerstein said. "I think it's dangerous to take life too seriously. I think you're allowed to have fun. [My art is] weird, it's funny, it's awkward, it's me."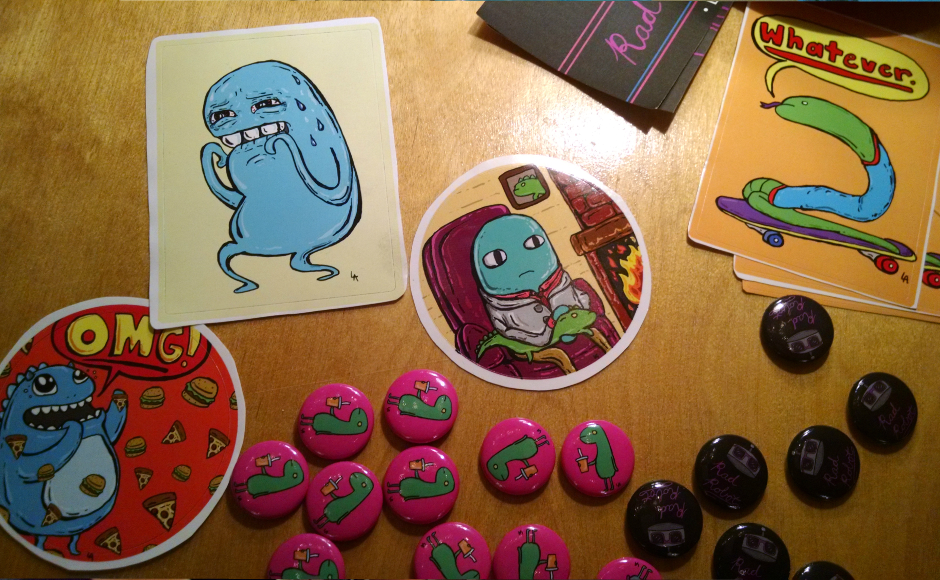 Get more local news that matters. Check out NJ Pen on Facebook and Twitter, [tinypass_offer text="or click here to become a supporter."]