The rollback of restrictions is spurred on by improvements in the state pandemic metrics, increasing vaccination rates, and updated guidance from the U.S. CDC. Some mandates will remain in effect, however.
By Matt Skoufalos | May 24, 2021
Another 260 New Jersey residents have tested positive for novel coronavirus (COVID-19), bringing the statewide total to 885,987 cases confirmed via polymerase chain reaction (PCR) testing, Governor Phil Murphy reported Monday.
New Jersey is also reporting 40 new COVID-probable cases based on antigen tests, bringing the statewide total to 128,203 positive antigen tests.
Antigen tests have a faster turnaround time than PCR tests—sometime within 15 to 30 minutes—but are less reliable at detecting active infection of the virus and more capable of reporting false positives.
Sadly, 10 more residents have perished from complications related to the virus, bringing the statewide, confirmed death toll to 23,440 lives lost during the pandemic.
In addition to those lab-confirmed fatalities, the state has acknowledged another 2,660 probable COVID-19-related deaths—12 more than previously reported.
Since March 2020, 883 of every 100,000 New Jersey residents have been hospitalized with COVID-19, and 267 of every 100,000 have died from COVID-19-related complications.
More than 14.295 million polymerase chain reaction (PCR) tests for COVID-19 have been performed statewide, with a 10.076-percent positivity rate per 100,000 residents.
Rate of transmission (Rt) at 0.64, spot positivity highest in South Jersey
The statewide average of COVID-19 spot positivity testing based on PCR test results stood at 2.13 percent May 20; in South Jersey, it was highest, at 2.18 percent.
Rt, the variable that describes the seven-day, rolling-average, statewide rate of transmission of new COVID-19 cases, hit 0.64 on May 22.
An Rt figure less than 1.0 means that each new COVID-19 patient is infecting fewer than one other person, on average, and the spread of the virus is decreasing.
Since its mid-April-2020 COVID-19 spike, the highest reported RT in New Jersey was 1.48, recorded August 1, 2020. Prior to artificially low, adjusted reports of 0.34 in the first week of May, the lowest in the past year was 0.62, recorded June 9, 2020. It fell to 0.59 May 21.
Hospitalizations continue to decline
Throughout New Jersey, 699 people currently are hospitalized with a suspected (97) or confirmed (602) case of COVID-19, Murphy said.
It's the fewest number of hospitalized patients in the state since October 13, 2020.
Among those hospitalized patients, 148 are in intensive or critical care, and 102 of the ICU and critical-care patients (69 percent) are on ventilators.
In New Jersey's 71 critical care hospitals, 55 patients were hospitalized with COVID-19 yesterday, while 67 others were discharged.
LTC update
Across the state, long-term care (LTC) centers have reported 1,463 cumulative outbreaks of COVID-19, and 155 are dealing with an active outbreak. LTCs account for 55,146 infected patients and staff in New Jersey, or 6.2 percent of total cases.
That includes 32,878 residents and 22,268 staffers sickened by the virus, as well as 8,050 lab-confirmed resident and staff deaths (34 percent of the statewide confirmed total), with facilities self-reporting 144 staff deaths.
Of 623 veterans residing in three state-run homes, 456 residents have tested positive for COVID-19, and 156 have died from complications related to the virus. Three hundred veterans have recovered from the virus.
The facilities at Menlo Park, Paramus, and Vineland are staffed by 1,337 workers, two of whom are presently COVID-19-positive. The facilities have sustained two staff deaths related to the virus.
At state-run psychiatric facilities, 638 of 1,125 patients and 1,075 staff members have tested positive for COVID-19. Thirteen patients and eight staffers have died from complications related to the virus.
MISC cases and schools
To date, 126 New Jersey children aged 1 to 18 have been diagnosed with pediatric multisystem inflammatory syndrome (MISC)—five more than previously reported. Four of those cases were reported in Camden County, tied with Cumberland and Monmouth Counties for third-least in the state.
All those pediatric patients have tested positive for an active COVID-19 infection or the presence of COVID-19 antibodies, indicating exposure to the virus. No deaths have been associated with this syndrome in New Jersey, although several children have been hospitalized during their treatment for the illness.
Since August 1, 2020, 281 COVID-19 outbreaks encompassing 1,263 individual cases have been traced to schools in all 21 New Jersey counties. In Camden County, 18 outbreaks have been linked to 78 cases, sixth-most in the state.
Vaccination update: NJ surpasses 3.9M fully vaccinated people
Across New Jersey, 8.389 million COVID-19 inoculations have been administered.
Throughout the state, 3.914 million people are fully vaccinated, having received either a one-shot formulation from Johnson and Johnson or both doses of the two-shot Pfizer or Moderna vaccines.
In Camden County, 463,279 doses have been administered; seventh-most in the state.
An estimated 357,974 New Jersey residents have received a vaccine dose outside of the state, of which 167,075 are estimated to have been fully vaccinated.
The first vaccines in the state were administered December 15, 2020; by February 8—55 days later—New Jersey had immunized its millionth resident. Twenty days thereafter, that count hit 2 million, and 3 million within two more weeks.
On March 29, New Jersey crossed the 4-million-dose threshold, and the state cleared 5 million doses over the weekend of April 10, 2021. Eight days after that, New Jersey hit the 6-million-dose mark. By May 3, 2021, the state had cleared 7 million doses administered, and two weeks later, it had surpassed 8 million doses.
New Jersey is working to make access to vaccinations easier to come by, facilitating walk-up vaccinations at its vaccine megasites—no appointments necessary—and incentivizing inoculations with free beers at participating craft breweries through the statewide "Shot and a Beer" program.
NJ records 4,395 cases of variants of concern
Mutated offshoots of COVID-19, or "variants of concern," continue to circulate throughout New Jersey; the state has traced 4,395 such cases to date.
The most common COVID-19 variant in the United States is the B.1.1.7, or "UK" variant, which has been detected in all 21 New Jersey counties.
In total, 4,059 B.1.1.7 cases have been spotted in the state.
It's associated with a 50-percent increase in COVID-19 transmission over earlier strains of the virus detected in New Jersey, and likely increased severity, based on hospitalization and case fatality rates, New Jersey Health Commissioner Judy Persichilli has said.
New Jersey also has recorded 164 cases of the P.1 "Brazilian" variant, 11 reports of the B.1.351 "South African" variant, and 161 reports of the California variants B.1.427 and B.1.429.
The South African variant has demonstrated a 50-percent increase in transmission over other strains of COVID-19, and the California variants appear to show a 20-percent increase in transmission of the virus.
An unknown number of cases has also been reported of strain B.1.526, which has been reported as originating in New York.
Roughly 2 percent of positive samples are being tested for variants, said Dr. Ed Lifshitz, head of the New Jersey communicable disease service, adding that state officials would like to increase testing to better be able to trace those variants.
Outlier COVID-19 cases
In addition to commonly reported data points, New Jersey health officials are tracking COVID-19 outlier statistics, including the number of residents who've suffered repeat infections of the virus, and those who constitute "breakthrough" cases; i.e., those who test positive for the virus at least two weeks after having been completely vaccinated.
Persichilli said early reports indicate that breakthrough cases seem to be statistically small: just 0.02 percent of those who have been vaccinated against COVID-19 have contracted the virus afterwards.
According to Persichilli, the percentage of New Jerseyans who have received at least one vaccine dose varies by age, with the oldest residents accounting for the bulk of inoculations:
87 percent of those 65 and older have received at least one vaccine dose
72 percent of those aged 50-64 have received at least one dose
58 percent of those aged 30 to 49 have received at least one dose
46 percent of those aged 18 to 29 have received at least one dose
33 percent of those aged 16 to 17 have received at least one dose
12 percent of those aged 12 to 15 have received at least one dose
"Fully vaccinated people are much safer to engage in everyday life than unvaccinated people," Murphy said, encouraging residents to "get vaccinated as soon as possible."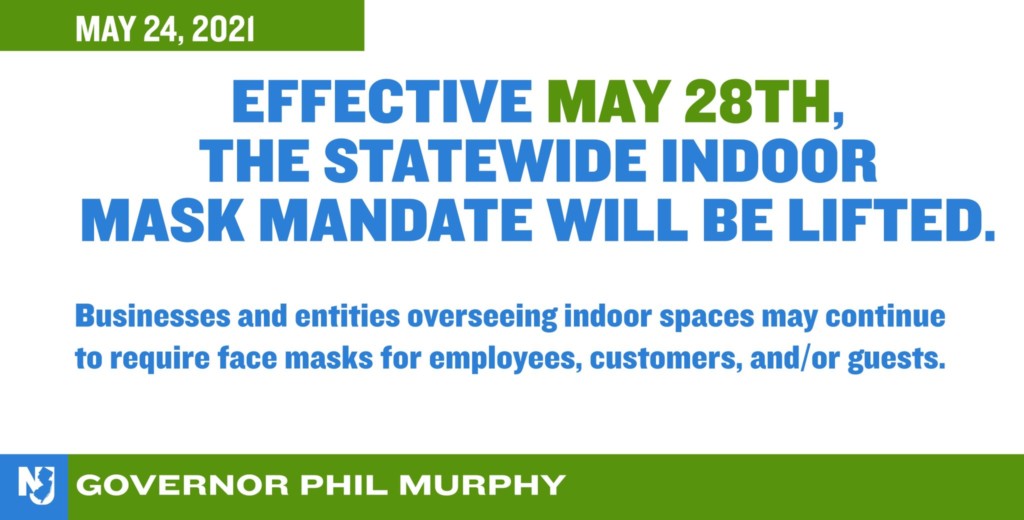 NJ to lift indoor mask mandate May 28, indoor gathering limits June 4
On Friday, May 28, New Jersey will lift its statewide indoor mask mandate for vaccinated persons, with a few exceptions.
Individual businesses and entities that oversee indoor spaces may continue to require that their employees, customers, or guests wear facemasks, and the governor asked "that you be respectful in adhering to these requirements where they do apply," adding that the relaxed restrictions are "not a license to be a knucklehead."
Masks will still be required in several areas, including in:
indoor workplaces that are not open to the general public
public-facing state offices
childcare centers, youth summer camps, and preschool, elementary, and secondary schools, as children under the age of 12 are not yet eligible to be vaccinated
healthcare settings, including LTCs
correctional facilities
homeless shelters
mass transit (airplanes, buses, trains), including transportation hubs (airports and train and bus stations)
Where masks are still required, wearing them "will be strictly enforced," Murphy said, while adding that law enforcement officials will not be checking individuals' vaccination statuses.
"No one should mistake lifting the indoor mask mandate as saying you cannot wear a mask indoors," the governor said, adding that officials "will not tolerate anyone being demeaned, or bullied, or excluded for wanting to continue to mask up."
Furthermore, Murphy's Chief Counsel, Parimal Garg, said that businesses could require customers to show proof of vaccination without penalty.
"Our understanding is that it's not a HIPAA violation, and that businesses could insist on proof of vaccination if they so choose," Garg said.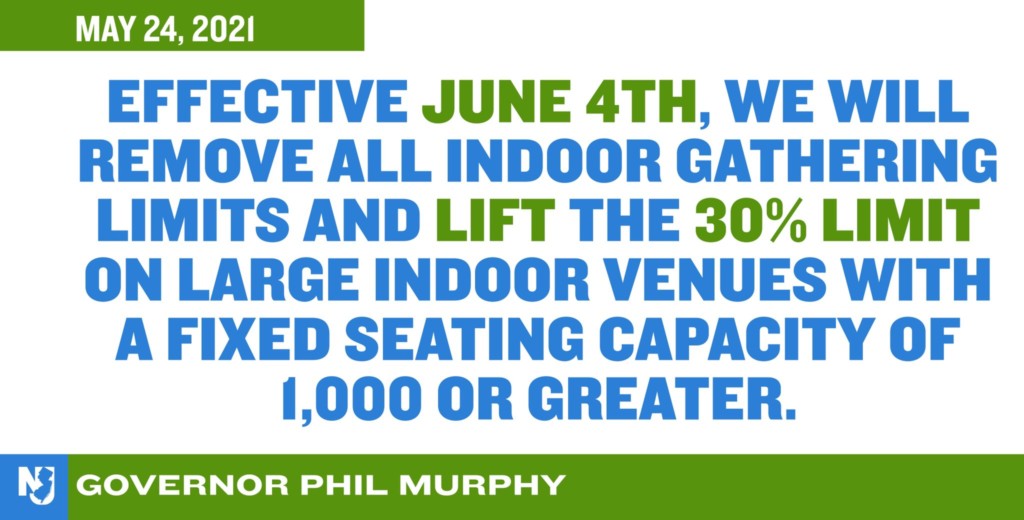 Starting June 4, New Jersey will eliminate its indoor gathering limits, along with requirements for maintaining six feet of social distancing in all indoor and outdoor settings.
These changes will affect retail and personal service businesses, recreational businesses, houses of worship, and performance venues.
Restrictions also will be lifted for food service at bars and for gatherings at dance floors.
Individual business owners may require social distancing and mask-wearing within their businesses should they choose to do so. Moreover, "mask-free shopping hours will not be tolerated," Murphy said.
"If you're not vaccinated, we expect you to have a higher standard of care, both in terms of wearing a mask and in social distancing," the governor said.
Murphy said he might only consider reinstating the mask mandate if the state's pandemic metrics begin "going meaningfully in the wrong direction," adding, "We don't anticipate it."
The pandemic masking requirements dated back to April 8, 2020. In the two weeks between May 13, when the U.S. Centers for Disease Control (CDC) updated its guidance on wearing face coverings, and the May 28 implementation, Murphy believes the state will continue to see improvement in its COVID-19 data points.
On May 13, New Jersey had 966 COVID patients in hospitals; today, it has fewer than 700, a drop of nearly 28 percent, the governor said. After reporting more than 1,000 daily new COVID-19 positivity cases, the state is now reporting fewer than 300 such cases daily.
Daily spot positivity is down one percentage point, from between three and four to around two percent, and so is ICU bed usage, the rate of transmission, and CALI scores, Murphy said.
Meanwhile, vaccinations have continued to increase, and in only 61 New Jersey municipalities—some 1.2 million people—have fewer than half of adults received their first vaccine doses.