Drop the Puck takes you inside the decisions that brought the Orange and Black their 19th head coach in franchise history.
By Josh Kaz
Big-name coaches like Mike Babcock and Todd McLellan were available for the hiring, but last week, the Philadelphia Flyers signed 45-year-old University of North Dakota hockey coach Dave Hakstol as the 19th head coach in franchise history.
The job will be Hakstol's first in the National Hockey League, where he has neither played nor coached. But Flyers GM Ron Hextall said those qualifications were not more important on his mental checklist  than the rest of Hakstol's resume.
"I had a list of things I wanted from a head coach and I went down this checklist in my mind," Hextall told reporters at the press conference. "Every box was checked except for the NHL experience, and quite frankly, for me, that's the least important."
Hakstol added, "I don't have experience at this level, and I'm not going to pretend that I do. I do have a great deal of confidence in what we do. You have to go out and do the work….all of those things that produce results."
When it comes to NCAA Hockey, Hakstol's resume is far more convincing.
In the last 11 seasons, Hakstol led North Dakota to an impressive 289-143-43 record (.654 winning percentage) and an annual NCAA tournament championship berth–the longest stretch in program history and the third-longest streak in college hockey history.
Under Hakstol, North Dakota won three conference titles, four league playoff championships and seven Frozen Four berths.
Dave Starman of College Hockey News described Hakstol's approach as comprising "a pro mentality":
[Hakstol] brought a pro mentality to an NCAA program and it worked. North Dakota is like a pro program. It's on TV all the time, either on their local network or on CBS Sports Network. It was an annual player in ESPN's coverage of the NCAA tourney. It played to higher attendance figures than some NHL teams the past decade and played for a fan base so passionate about North Dakota hockey it reminded you of SEC football. I've always said playing goal for North Dakota is like playing goal for the Montreal Canadiens; it is that high-profile a position in the area.
Despite the constant college turnover, Hakstol enjoyed perennial success by coaching a fast-paced system and demonstrating confidence in his players. One of the main reasons the Flyers fired Craig Berube a month ago, according to Hextall, was his inability to get the best effort from his players.
"He pushes his players," Hextall said, "and gets the most out of his players."
"Expectations are simple of myself, my staff, and my players," Hakstol said: "accountability to ourselves and our organization."
Youth movement
Given his experience with college-aged players, Hakstol makes sense for an organization that has seven roster players aged 24 or younger and another 10 younger than age 28.
The door is also wide open in Philadelphia for some of its up-and-coming prospects to join the big club full-time next season, including Sam Morin, Shayne Gostisbehere, and Scott Laughton.
If Hakstol can put his stamp on even a few of them the way he has players like Blackhawks captain and Conn Smythe winner Jonathan Toews, U.S. Olympic hero T.J. Oshie, stalwart L.A. Kings blueliner Matt Greene, and Devils assistant captain Travis Zajac–all of whom came through his system at North Dakota–the coach should be able to drive better results from the Flyers locker room.
In all, Hakstol has produced 20 NHL players and a total of 46 who have played professionally during his tenure at North Dakota. If you include players he coached with the USHL Sioux City Musketeers (1996-2000), the list includes Ruslan Fedotenko, Rostislav Klesla, and David Hale, who combined for a total of 1844 NHL games.
"The way he prepared us was a lot like an NHL organization," Zajac told NJ.com. "He prepared us on and off the ice and wanted us to act as individuals. He pushed us to be the best players we were.
"I hope he does well," Zajac said. "He's a great person. He is a big reason why I'm here today in the NHL."
"It's not going to take long for the players to respect what he brings to the table and to want to play for him," Oshie told NHL.com. Toews went further, pointing out how much he enjoyed playing for Hakstol, who is usually known for his stern looks and serious nature.
"It was a lot of fun to play for him in North Dakota," Toews said. "It was important years for myself and my career, so it's nice to see him have that success and get recognized and get the opportunity at the highest level."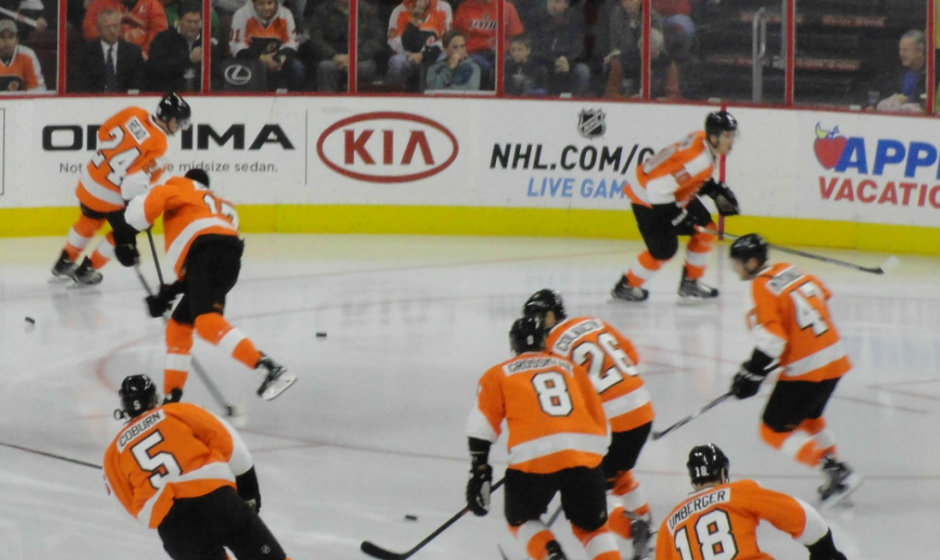 The virtue of confidence
Hakstol is only the fourth U.S. college coach to jump directly to a head coaching position in the NHL.
He is also the first since 1987, when Herb Brooks of the legendary 1980 U.S.Olympic mens hockey team left St. Cloud State to coach the Minnesota North Stars, his second stint as an NHL coach.
Hakstol brings the one intangible many others might lack when reaching for the big time — confidence. While not knowing Herb Brooks real well, the times I was in his company for various hockey events, I came away with the opinion that Herb was someone who really felt his way was right. I see that in Hakstol, and I see someone who is confident his methodology works. For a guy who doesn't say much, he says everything you need to hear, and he says it with conviction. To a pro, that is worth its weight in gold.

Hakstol becomes the latest piece in Hextall's rebuilding process. Hextall could have made a run at the big names to try to win immediately but instead he hired a man who will grow with his young team. "I was never going to hire the people's choice; the popular choice," Hextall vehemently stated at the press conference. "I was going to hire the best coach for this franchise. He was our target all along."
Hextall got a good look at Hakstol from 2008-11 when his son Brett, who played for the Lehigh Valley Phantoms this season, played under the new Flyers coach at North Dakota.
"Watching my son over the years, I grew an appreciation for Dave and the way he coached," Hextall said. "I've thought about him long before this as a head coach in the National Hockey League. I believe he was destined for it. He's got a lot of pro qualities [and]he's got a lot of experience as a head coach."
When asked if he considered possible assistant coaches in the NHL for the job, Hextall said, "If you had said to me, 'You can bring in an NHL assistant coach, or you can bring in a guy who was a head coach in college for 11 years,' I'd take the head coach every time."
Without directly taking a shot at his predecessor, GM Paul Holmgren, or at Berube, Hextall made it obvious with this remark that Berube's lack of success may have come from not having been a head coach before. Berube struggled to maintain consistency, and with an extremely young team (only two players older than 32), the team needed its coach to be a leader.
Hakstol's system, according to Starman, focuses on controlling the center lane of the ice while being very fast-paced.
His teams go at the net, shoot for rebounds, make plays, and really emphasize the defense being an active part of the offense… His use of weak-side [defensemen]to pinch and extend plays is a huge component to their offensive success, and defensive as well, as they don't retreat and regroup as much as other teams did… Dave Hakstol built his teams to play with skill, pace, purpose, physicality, and passion.
This style will should help the struggling Flyers defensive corp. Michael Del Zotto, Mark Streit and Andrew MacDonald will all most likely see their offensive production increase, which will lead to more shots and goals helping the Flyers (22nd in the league in goals per game in 2014-15) score more. Prospects like Gostisbehere and Travis Sanheim, who already play that style, should thrive when they eventually see their time in the NHL.
"He's developed young guys and it's pretty cool to see a guy go from college to the NHL," Gostisbehere told Sam Carchidi of the Philadelphia Inquirer.
Zajac also praised Hakstol as a solid communicator who preaches hard work as well as teamwork.
"He was easy to talk to," Zajac said. "He's honest. That's the most important thing. He's not going to sugar coat anything. He expects the most out of you.
"He cares about his players and he wants you to succeed," he said. "He put everything he believed in North Dakota. He felt all of the tradition there and he kept that going for us. I think he'll bring that kind of mentality to Philly. He knows what that NHL organization means to the fans and to communities."
'Hak' Facts
Coached seven Hobey Baker finalists and 11 NCAA All-Americans
Won more games than any program in the nation during his tenure at North Dakota (two more than Boston College, 12 more than Michigan).
Eight-time Spencer Penrose Award finalist (top NCAA coach)
In Hakstol's last five seasons with UND his team was a combined plus 178 averaging plus 35.6 per season. His team ranked number 1 in his final season with a plus-44.

2015 UND Stats:

Goals Per Game: 3.25 (9th in NCAA)
Goals Against: 2.21 (11th)
PowerPlay %: 20.36% (12th)
Penalty Killing %: 84.02% (24th) – scored 12 short handed goals
Tied for most wins in league with 29
More endorsements
Josh Kaz writes about the Flyers at DropthePuck.org.
Get more local news that matters. Check out NJ Pen on Facebook and Twitter.