Governor Phil Murphy called the new restrictions 'surgical steps' intended to mitigate the pace of a new, national swell in COVID-19 cases, from which New Jersey is not exempt.
 By Matt Skoufalos | November 9, 2020
Another 2,075 New Jersey residents have tested positive for novel coronavirus (COVID-19), bringing the statewide total to 256,653 cases, Governor Phil Murphy reported Monday.
The state is averaging 2,381 new infections daily over the past four days, Murphy said, and hospitalizations have returned to levels last seen in June.
Relative to its "escalator ride up" in the spring, New Jersey Medical Director Dr. Edward Lifshitz said that New Jersey is "taking a more gradual staircase up" in terms of new cases.
"It's not rising as fast, but it's rising steadily and regularly, and that is concerning," Lifshitz said.
Sadly, 11 more residents have perished from complications related to the virus, bringing the statewide death toll to 14,640 lives lost during the pandemic.
In addition to those lab-confirmed fatalities, the state has acknowledged another 1,800 probable COVID-19-related deaths.
Since March, 436 of every 100,000 New Jersey residents have been hospitalized with COVID-19, and 166 of every 100,000 have died from COVID-19-related complications.
More than 5 million polymerase chain reaction (PCR) tests for COVID-19 have been performed statewide, with a 2.90-percent positivity rate per 100,000 residents.
Rate of transmission (Rt) at 1.24, spot positivity higher in South Jersey
The statewide average of COVID-19 spot positivity testing stood at 7.52 percent November 5; in South Jersey, it was higher, at 8.01 percent.
Rt, the variable that describes the seven-day, rolling-average rate of transmission of new COVID-19 cases, hit 1.24 from samples taken November 7.
An Rt figure greater than 1.0 means that each new COVID-19 patient is infecting more than one other person, on average, and the spread of the virus is increasing.
Since its mid-April COVID-19 spike, the highest reported RT in New Jersey was 1.48, recorded August 1. The lowest was 0.62, recorded June 9.
Hospitalizations match levels last seen in June
Throughout New Jersey, 1,537 people currently are hospitalized with a suspected case of COVID-19.
Of those, 1,313 were positive for the virus; another 224 were awaiting confirmation of their symptoms.
It's the first time since June 9 that the total number of hospitalizations has topped 1,500 patients, Murphy said.
Among those hospitalized patients, 309 were in intensive or critical care (a number last seen June 17), and 94 of the ICU and critical-care patients (30 percent) are on ventilators.
Across the state, long-term care (LTC) centers have reported 857 cumulative outbreaks of COVID-19, and 200 are dealing with an active outbreak. LTCs account for 40,237 infected patients and staff in New Jersey, or 16 percent of total cases.
That includes 25,844 residents and 14,393 staffers sickened by the virus, as well as 7,240 lab-confirmed resident and staff deaths (50 percent of the statewide total), with facilities self-reporting 121 staff deaths.
Of 656 veterans residing in three state-run homes, 399 residents have tested positive for COVID-19, and 146 have died from complications related to the virus. Ten veterans presently are hospitalized with COVID-19, and 248 have recovered from the virus.
At state-run psychiatric facilities, 247 of 1,175 patients and 538 staff members have tested positive for COVID-19. Thirteen patients and seven staffers have died from complications related to the virus.
To date, 61 New Jersey children aged 1 to 18 have been diagnosed with pediatric multisystem inflammatory syndrome, New Jersey Health Commissioner Judy Persichilli said.
All those pediatric patients have tested positive for an active COVID-19 infection or the presence of COVID-19 antibodies, indicating exposure to the virus. No deaths have been associated with this syndrome in New Jersey, although several children have been hospitalized during their treatment.
Since August 1, 36 COVID-19 outbreaks encompassing 146 individual cases have been traced to schools in 15 New Jersey counties. In Camden County, six outbreaks have been linked to 45 cases. That's the most in the state.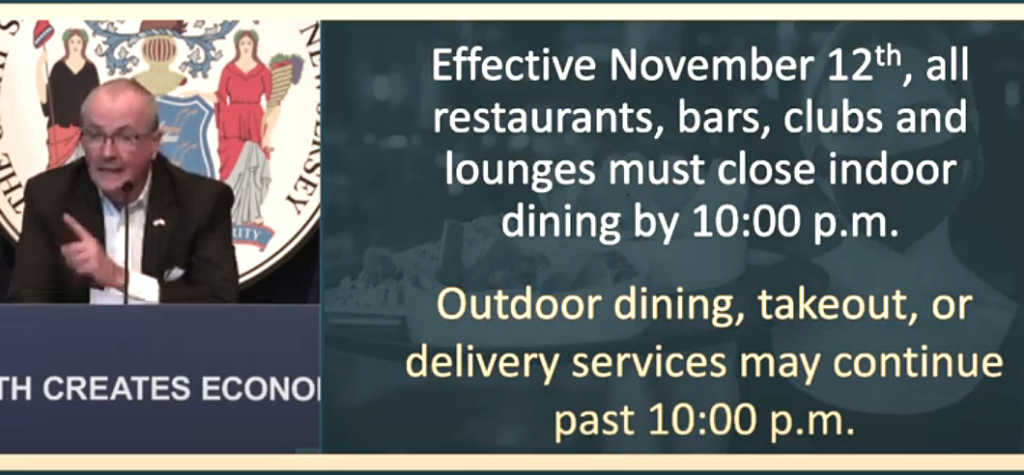 NJ rolls out new indoor dining restrictions
Describing them as "surgical steps" to mitigate the spread of the virus, Murphy announced a handful of new restrictions on indoor dining that will take effect this week.
Starting November 12, all restaurants, bars, clubs, and lounges must shut down their indoor dining between 10 p.m. and 5 a.m. Outdoor dining, takeout, and delivery services may continue past 10 p.m.
Additionally, all bar-side seating is prohibited; however, tables may be placed closer than six feet together, but only if they're separated by physical barriers. Restaurants may also create individual, fully enclosed, and heated outdoor dining bubbles, but these must be thoroughly cleaned and sanitized between uses.
Amended indoor guidance will follow from the state health department, the governor said.
"No one up here wants to take the type of broad, all-encompassing actions we had to take in March," Murphy said. "We are acting with more precision-based actions based on what we are seeing on the ground."
The governor urged residents to "shake off the pandemic fatigue" and "get back into the mindset that saw us crush the curve."
"We have to snap back into reality," he said. "This virus has not gone away, and it's posing its greatest threat to us in recent months."
Asked why the 10 p.m. cutoff was chosen, Murphy replied that the state has observed "a lot of outbreaks" attributable to bartenders and barside service, adding that, "as the night wears on, people let their hair down.
"Folks are not distancing as they should," he said.
"Even when they're seated, there just isn't the same level of compliance and care."
Lifshitz said that risks are elevated at a bar because bartenders work in tight spaces, patrons "almost never" wear masks while drinking, and proper spacing among them is "not always observed."
"You can go and you can look at these places and you can get a good sense of why that might happen," he said. "It is a very difficult environment to maintain the type of space and separation that you would like."
PPE discount purchasing program
Finally, for businesses that are looking for bulk discounts in personal protective equipment (PPE) for their workplaces, the New Jersey PPE Access Program offers all New Jersey-based businesses and non-profits a 10-percent discount on purchases made through an approved online retailer.
Starting Tuesday, small businesses with fewer than 100 employees may be eligible for an additional, 25-percent discount. For program details, check the state website.