For the third year running, Haddon Avenue welcomes a three-block-long party on the longest day of the year.
By Matt Skoufalos | June 20, 2019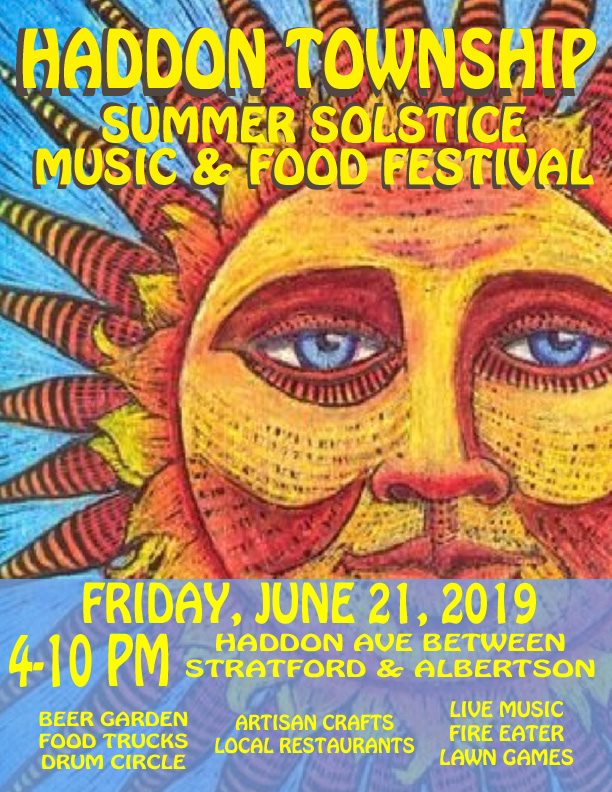 If this week of rain has you feeling all washed up, there's a full day of sunshine in the forecast for Friday.
Added bonus? It's the longest day of the year.
Friday afternoon marks the third annual Haddon Township Summer Solstice Festival, an afternoon and evening of live music, food, and libations in the heart of the township business district.
From noon to midnight, the township will close its main thoroughfare to vehicle traffic, shutting down Haddon Avenue from Cuthbert Boulevard to Cooper Street.
The event runs from 4 to 10 p.m., features 57 vendors and eight live acts across three township blocks, and is free to attend.
Organizer Doug Kelly said the support the township municipal government has thrown behind the event in its third iteration rates as "extraordinary." It's an evening shared with the Class of 2019 commencement ceremonies at Haddon Township High School, and one that has grown every year since its inception as a bookend to the community's fall music festival.
"I never in my wildest imagination thought we'd close Haddon Avenue on a Friday night for an event," Kelly said. "That's what kind of support we get for the event."
That buy-in is echoed by the township business district, which Kelly said is bolstered by the additional foot traffic, both during the hours of the show and by repeat customers in the days and weeks after.
"I think it's why we have so many events in Haddon Township," he said; "because nothing else brings people into town like that.
"A lot of businesses will benefit," Kelly said.
"I happily close my salon [Blue] for two days because the salon will benefit.
At the Strawbridge Avenue end of the party, Sara O'Brien of Community Rocks! will offer interactive activities for children, and deejay Dave Michaels will spin music for festivalgoers.
On the stage at Albertson Avenue, eight live musical acts will be capped off by fire-eater Justin David Provoncha and a drum circle.
In between, there will be a beer garden at the Haddon Square municipal pop-up space and dozens of food vendors and artisans lining the street, offering everything from bubble tea and vegan food to cannoli and hair enhancement. Strategically placed tables and chairs offer respite throughout.
"We have more vendors than last year, and we're giving people more space to breathe," Kelly said.
More than anything, the event is designed to welcome in the start of summer, and with Crystal Lake Pool temporarily sidelined by storm damage, it's a block party designed to bring the community out for a good time.
"Creativity and music; that's the festival at its core," Kelly said. "It's meeting your neighbors; it's top-notch, good family entertainment.
"It is truly just a celebration for all the people," he said.
Schedule of Performers
4 p.m. – Suitcase Murphy Band
5 p.m. – The Unstoppable Hack Beats
6 p.m. – The Wayside Shakeup
7 p.m. – John Torres Band
8 p.m. – Preacher
9 p.m. – Drum Circle led by Jerry Mayall and featuring fire eater Justin David Provoncha
9:15 p.m. – Tara Hendricks