Every year, we ask restaurants in our coverage area to submit their best recipes to cook at home before the big game. They returned with a little something for everyone.
By Matt Skoufalos | February 2, 2019
Looking to serve up something special for your Super Bowl party? We asked restaurateurs in our coverage area to send along their top recipes. Take this list with you when you go shopping this weekend, and bring home a taste of the local food scene for your guests.
Want some more options? Dig into our recipe archives from 2018, from 2017, from 2016, and from 2015.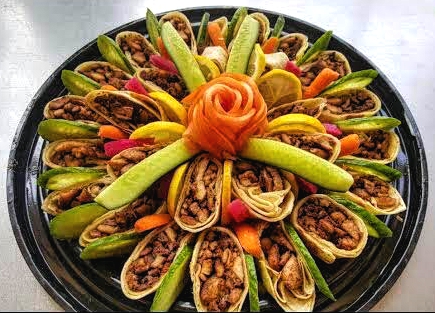 Syrian Shawarma
provided by Zena's American Mediterranean Cuisine of Collingswood
one tortilla
half pound of marinated chicken breast
four slices of pickled cucumbers
one table spoon of Zena's famous garlic cream sauce 
side of fries
Directions
Cook the chicken on the grill.
Place the tortilla bread on top of the chicken to warm it up.
Spread garlic cream sauce on tortilla. 
Add chicken and pickles and roll the tortilla.
Grill the sandwich with some oil, flipping continuously to toast.
Cut your sandwich, fry up your fries, put on a plate and enjoy!
Guacamole
provided by The Tortilla Press of Collingswood and Pennsauken
• 1 ripe avocado, pitted, halved
• 2 tablespoons onion, minced
• 1 tablespoon jalapeño pepper, minced
• 1/2 teaspoon kosher salt
• 2 tablespoon tomato, diced
• 2 teaspoon fresh cilantro, chopped
• 1/2 tablespoon freshly squeezed lime juice
Directions
1. Mash onion, salt, jalapeño, and lime juice in the bottom of a bowl.
2. Dice avocado into quarter-inch cubes in shell. Scoop into bowl with mashed onion mixture.
3. Lightly mash together, leaving avocado mostly chunky.
4. Stir in cilantro and diced tomato.
5. Serve with fried tortilla chips.
Honey Cholula wings
provided by The Tortilla Press of Collingswood and Pennsauken
12 whole chicken wings, cut in half
One 5-oz jar of cholula hot sauce
1/2 tsp chopped garlic
1/2 stick butter
3 Tbsp honey
Directions
Melt butter in small pan, stir in garlic for one minute.
Add hot sauce & honey.
Fry or bake wings.
Toss wings in sauce. Serve with guacamole ranch dressing.
Guacamole Ranch Dressing
1 cup ranch dressing
1/2 avocado, pureed
Juice of half a fresh lime
1 tablespoon fresh chopped cilantro
Directions
Mix ranch dressing and avocado puree with lime juice.
Stir in cilantro. Serve with wings.
Mexican-Style Macaroni and Cheese
provided by the Tortilla Press of Collingswood and Pennsauken
8 oz elbow macaroni
1/2 cup red or green enchilada sauce
3/4 cup crumbled tortilla chips
1/4 cup minced onion
4 Tbsp butter
1 Tbsp flour
1/2 Tbsp salt
1/4 tsp dried mustard
1/4 tsp white pepper
1-and-a-half cups half-n-half
1/4 cup cotija cheese, grated
3 oz cheddar, grated
2 oz Monterrey jack cheese, grated
2 oz chihuahua cheese, grated
1 tsp Cholula hot sauce (optional)
Directions
Sautee onions in butter until tender. Add flour, salt, pepper, and mustard.
Slowly add half-n-half, stirring constantly until lightly thickened.
Bring sauce to just under the boiling point. Remove from heat.
Slowly add jack, cheddar, and Chihuahua cheese until melted. Finish with cholula sauce.
Lightly melt two tablespoons butter in skillet. Remove from heat. Stir in crumbled tortilla chips and cotija.
Bring water to boil, and cook macaroni al dente. Drain well. Stir in enchilada sauce while still hot.
Place macaroni in a casserole dish. Stir in cheese sauce. Top with tortilla-and-cheese mix. Bake at 350 degrees for 25 minutes until bubbly and topping browns.
Roasted Tomatillo & Tomato Salsa
provided by the Tortilla Press of Collingswood and Pennsauken
1 medium tomato
8 tomatillos
1 jalapeno
1/4 medium onion
2 Tbsp chopped cilantro
1 clove garlic
Salt and sugar to taste
Directions
Roast tomatillo, jalapeno and garlic until slightly blackened. Reserve juice.
Cut tomato into chunks. Add tomatoes, garlic, jalapeno, tomatillos and accumulated juice into blender. Pulse until chunky.
Add salt to taste. If too tart, add sugar to balance.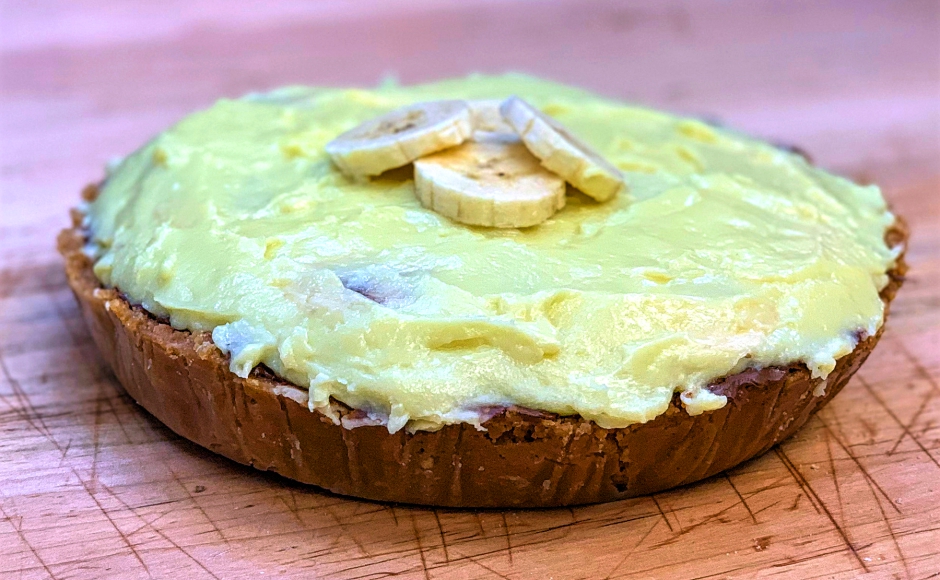 Nutella Banana Cream Pie
provided by Valente's Italian Specialties of Haddonfield
Crust
1 1/3 box of Graham Crackers
2 sticks of butter, room temperature
2 tbsp. honey
2 round pie pans
1/2 cup Nutella
Pie filling
1/2 cup sugar
1/3 cup cornstarch
1/4 tsp. salt
1 1/2 cups whipping cream
1 1/2 cups whole milk
3 large egg yolks
1/2 vanilla bean, split lengthwise
2 tbsp. (1/4 stick) unsalted butter
1 tsp. vanilla extract
3-5 bananas
Directions
Crust
Crush Graham Crackers and add to food processor.
Add in butter and honey. Pulse until it reaches a uniform, sticky consistency. Add more butter if needed.
Press into pie pans and mold into crust.
Place in freezer for one hour.
Melt Nutellla in double boiler (a microwave is fine too) until it is loose enough to spread easily.
Spread Nutella over pie crusts. Return to freezer for one hour.
Pie filling
Whisk sugar, cornstarch, and salt in heavy medium saucepan over low-medium heat.
Gradually whisk in whipping cream and whole milk.
Slowly whisk in egg yolks.
Scrape in seeds from vanilla bean.
Add vanilla bean.
Whisk over medium-high heat until custard thickens and boils.
Remove from heat. Whisk in unsalted butter and vanilla extract. 
Discard vanilla bean.
Transfer custard to large bowl, cover, and cool for about an hour.
Cut up bananas and place on top of crusts.
Spread custard over top, add another layer of bananas and repeat.