Shop a variety of local, small businesses with our curated selection of holiday gifts and goods, and get three months of NJPen.com for free.
By Matt Skoufalos | November 27, 2021 – (UPDATE: December 22, 2021)
What's in the Bag?
Every Good News Bag includes a selection of gifts and goods from 22 local small businesses within our nine-town, Camden County coverage area.
We hope that, in addition to enjoying their offerings here, you will patronize them throughout the year. Small businesses are the lifeblood of our communities, and like all your neighbors, many have been hit particularly hard by circumstances of the past year.
Our Earth-friendly, reusable totes were designed by Falco Print and Design, and screen-printed at The Factory in Collingswood. On one side of every one, you'll find the names of six sponsoring organizations who helped this project become a reality. We thank them all for their contributions!
They are:
The gift list:
Our NJ Pen gift subscription insert cards were printed locally at Pronto Ship & Print of Collingswood (read more here). To redeem your three-month trial subscription (new readers only), please contact us with the new subscriber's information and we'll help you get set up.
Thanks for supporting The Good News Bag! For more background information, read on!
 What's the Good News Bag project all about?
The holiday shopping season represents the most vital few weeks of the calendar year for the local businesses that comprise any small-town shopping district.
The infusion of cash that comes at the end of the year is what many rely upon in order to sustain themselves through the quieter months ahead.
Small businesses employ your neighbors, support your kids' activities, provide gathering places for people in the community, and create the vibrant culture that contributes to the sense of place that we all love about where we live.
And when families, friends, and coworkers exchange gifts purchased in their communities, more of the dollars they circulate throughout their local economies tends to stay there.
That's why we created the NJ Pen Good News Bag: to make it easy for you to learn about and support a variety of small businesses with a single purchase.
What's a Good News Bag?
Back in February 2020, NJ Pen won a competitive grant from the Center for Cooperative Media designed to bring us closer to the communities in our coverage area, and to help grow our subscriber base as well.
The project we pitched was called "The Good News Box," our riff on curated subscription boxes like Birchbox, Stitch Fix, KiwiCo, and so on.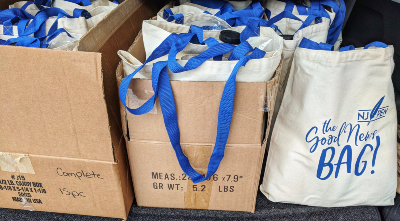 That evolved into the "Good News Bag," an earth-friendly, re-usable tote printed locally, stuffed with a selection of small gifts from local small businesses, and delivered to porches throughout our coverage area.
Every bag also includes a three-month trial subscription to NJ Pen for new subscribers to keep up with the independent local reporting we've been producing for the last seven years.
Last year's project was so well-received that we decided to run it again this year. To everyone who supported it both this year and last, we thank you so much. Happy holidays, happy reading!